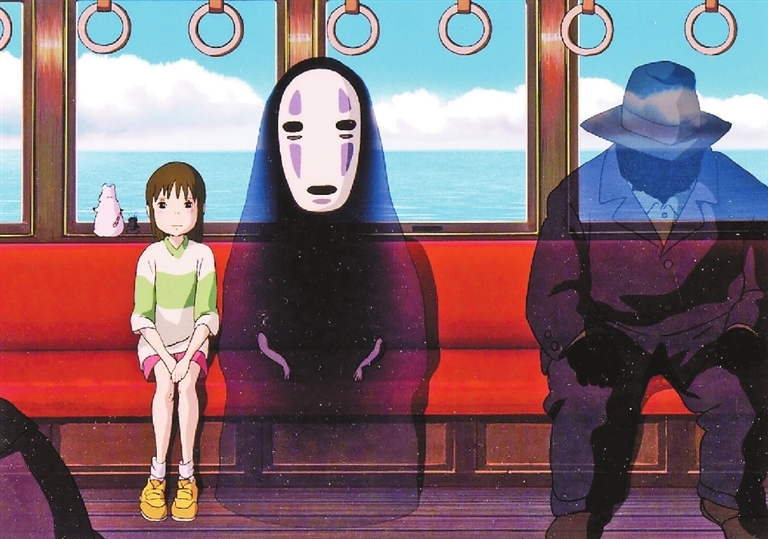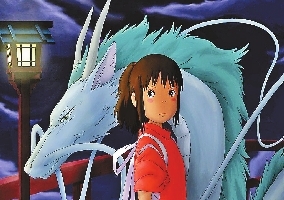 THOUGH aimed, says director Hayao Miyazaki, "at 10-year-old girls," his film "Spirited Away" is a masterwork, the best in a long line from Japan's premier animator.
The story, of a girl's separation from her parents in a land of goblins and gods, is told with all the resources at Miyazaki's command, from the richness of his imagination and the strength of his moral intelligence, to the superb craft of his Studio Ghibli animators. "Spirited Away" may be the culmination of Miyazaki's five-decade-long career, but far from being monumental, it is a joy and wonder to be in, its fantasy world at once universal and distinctly Miyazaki.
With "Spirited Away," Miyazaki is expanding on themes that occupied him in Mononoke and through much of his career, notably the vexed relationship between man and nature, as well as re-working certain motifs that have appeared in his work again and again. The inevitable comparison is with Lewis Carroll's Alice books: The film has a similar sense of dream logic, with characters and situations that may seem absurd or grotesque, but brilliantly illuminate humanity's fears and desires, in fun house mirrors that are somehow truer than normal ones.
The narrative core, however, is the young heroine's search for her parents and how that search transforms into a struggle for a new, independent identity. In short, the age-old story of the quest, in which the goal is less important than the consciousness-expanding and character-building encounters on the way.
It begins when 10-year-old Chihiro and her parents, on a drive in the mountains, find what appears to be an abandoned theme park, whose Western-style buildings have a seedy, ominous look. Dad, however, finds scrumptious grub on the counter of a restaurant, and seeing no proprietor, digs in, followed by Mom. Chihiro, with a sense of foreboding, refuses to eat, running off to explore the place instead. When she returns, Mom and Dad have been transformed into huge, snuffling pigs.
Somehow, she has fallen into another world, in which all manner of strange beings walk, and she seems to be only the human in sight. Then she encounters Haku — a 12-year-old boy who helps her find her feet in a place where nothing (including Haku) is what it seems. He even gives her a new name: Sen. She begins working at a hotsprings resort whose guests are gods taking rest and relaxation after an exhausting tour among humanity. Its owner is a crone with an enormous head, magical powers, and a personality that is a cross between Scrooge and the Queen of Hearts. Among those she encounters there are Kamaji, a grand fatherly, if madly busy, creature with four hands and two legs who runs the boiler room, and Okutaresama, a river god who is a huge, moving pile of filth whom she is assigned to wash.
But while adapting to her strange new environment, Sen still searches for her parents and heeds Haku's warning: Forget your real name and you can never return to your former life.
Filmed and projected using the digital technology in the early 20th century, "Spirited Away" is packed with dazzling images. Some of the best scenes, however, are the smaller, psychologically revealing ones, such as Sen, alone in a garden, collapsing into tears of relief because a stranger has been kind. Perhaps the true model for this extraordinary film is not "Alice's Adventures in Wonderland" but that ever-reliable map of childhood's inner landscape: David Copperfield.
The movie is now being screened in Shenzhen.
(SD-Agencies)