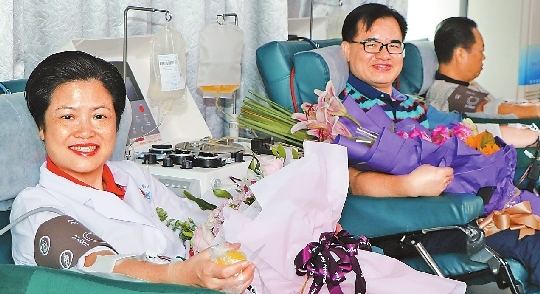 Zhang Yu
JeniZhang13@163.com
OVER a 13-year period, a Shenzhen couple has donated blood 200 times each, asking nothing in return.
Lu Liang, secretary of the Party general branch of Shenzhen Blood Center, and his wife Li Baoyu, deputy head of the health education department at Shenzhen No. 2 People's Hospital, jointly completed their 200th blood donations Friday.
They became the first couple who both work in the medical field to have voluntarily donated blood 200 times in China.
Over the last decade, unpaid blood donation has become a common and indispensable thing in the couple's daily life.
In addition to regular blood donation, Lu and his wife use weekends and holidays to volunteer at street blood donation stations. They hand out leaflets, recruit blood donors, explain information about unpaid blood donation to citizens, and help blood donors take photos.
"As medical practitioners, we carry out publicity and recruitment activities to mobilize more people to donate blood. If we are not only regular blood donors, but also advocates for blood donation on the street, we can gain practical experience and have more confidence," said Lu.
Lu and Li also persist in physical exercises and maintain a healthy lifestyle, because blood donation requires donors to meet certain health indicators. Shuttlecock kicking is their weekly sport routine.
"If my body permits, I will continue to donate blood until I am 60 years old. I am very happy that I can continue to donate blood in this way," Li added.
Lu and Li first donated blood in 2006 and 2004, respectively. Their 100th blood donation was completed Oct. 9, 2014.
As of Friday, Lu and Li had donated a total of 169,400 milliliters of blood, with Lu donating 84,400 milliliters and Li donating 85,000 milliliters.