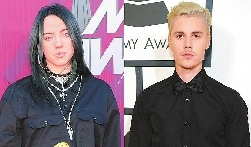 THE Billie Eilish and Justin Bieber collab you've been waiting for has arrived!
Days after teasing something new, the 17-year-old songstress revealed that she and Bieber had gotten together to gift the world a new version of her hit single, "Bad Guy."
Eilish promoted the track with a throwback photo of herself wearing a sequined dress while standing before a wall covered with photos of Bieber.
Bieber also posted the aforementioned throwback image, writing alongside, "@billieeilish so proud of you. Remix."
In March, Eilish spoke with ET Magazine at her album immersive pop-up experience presented by Spotify, where she admitted that the pop singer had DM her on Twitter.
"I mean, Justin Bieber did!" Eilish said, adding, "The first thing he sent was a screenshot of a DM I sent him in 2014. You know how when you follow somebody, you can see everything they DM you in the past? It, like, it felt good and it felt bad at the same time."
She also gushed about how much she adores the fellow performer, whom she hadn't met in person at that point.
"It started when I was, like, 12, I believe," she confessed, adding that she totally had "big ass" posters of him on the walls, which are verified in the new throwback image, " she said.
(SD-Agencies)