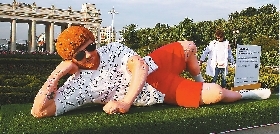 AN enormous statue of Ed Sheeran believed to be 16 feet (4.88 meters) long has appeared overnight in Moscow's Gorky Park, in what has been described as either an unusual promotional tool for Sheeran's forthcoming concert in the city, or a terrifying Wicker Man-esque nightmare for all.
The statue, a collaboration between Yandex Music and Warner Music Russia, depicts Sheeran reclining seductively in a pair of sunglasses while dressed in a graffiti-covered shirt and red shorts. Fine attention to detail has also meant that many of Sheeran's tattoos have been replicated on his plastic doppelganger.
On Twitter, one fan expressed their joy over the statue, writing: "Just in case Ed feels lonely in Russia, someone made this in the biggest park in Moscow."
Intriguingly, the Moscow statue is not the first time Sheeran has served as inspiration for a statue. In 2016, a Sheeran-inspired pig statue wearing a plaid shirt and sporting messy red hair was planted in Ipswich, near Sheeran's hometown of Framlingham. Named "Ed Sheer-Ham," the statue was met with support from Sheeran himself.
"I'm really excited to have a pig sculpture made in my honor," he said in a statement. (SD-Agencies)