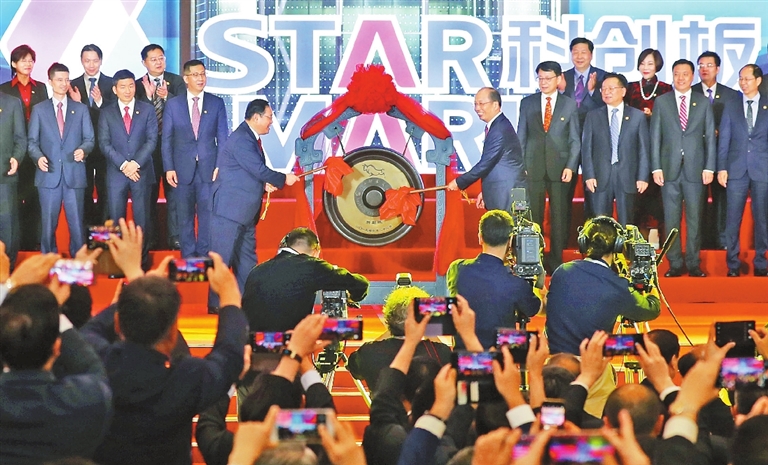 SHARES on Shanghai's new NASDAQ-style technology board soared yesterday, kicking off a trail-blazing leg of the country's innovation drive and capital market reform.
All 25 components on the Shanghai Stock Exchange's Sci-Tech Innovation Board, or STAR Market, were driven sharply higher in a hearty initial endorsement of China's plan to use the board to help fund fast-growing tech firms and discourage them from listing abroad.
One firm rocketing more than 500 percent, as investors rushed to grab a piece of China's latest market liberalization in a frenzied debut.
Anji Technology, a solar energy battery manufacturer, closed morning trade up 415.44 percent at 202 yuan (US$29.7) after earlier soaring as high as 520 percent.
The board's biggest component, China Railway Signal & Communication, rose 125.64 percent to 13.20 yuan on market-leading turnover of 7.6 billion yuan.
The introduction of the board, for which listing and trading rules have been dramatically eased, represents one of China's most significant financial market reforms yet.
The tech board is yet to draw any household names.
But China hopes it will eventually include listings from among the country's rich stable of tech "unicorns" — startups valued at a minimum US$1 billion — which include Alibaba-linked mobile-payment pioneer Ant Financial, ride-sharing giant Didi Chuxing, and online-service platform Meituan-Dianping.
China's government envisions the board being mentioned in the same breath someday as the tech-heavy NASDAQ, encouraging firms to list at home after the likes of Alibaba and Baidu chose Wall Street.
That will take time — the NASDAQ has more than 3,000 companies listed and is one of the world's biggest exchanges.
"I think the science and technology board will develop into a major and important sector in China's capital markets, but it will take a long time, maybe 10 years, 20 years, or even longer," said Jiang Liangqing, a fund manager at Ruisen Capital Management.
For the first time, Chinese companies can list without a track record of past profits or restrictions on IPO pricing.
There will be no limits on price movements for the first five days of trading, after which a daily 20-percent band is imposed.
China's two main exchanges in Shanghai and Shenzhen are subject to a 10-percent band to contain volatility.
With attention on the new exchange, those markets languished yesterday. The benchmark Shanghai Composite Index down 0.57 percent.
First proposed in November 2018, the new board is designed to provide direct financing support for companies in the high-tech and strategic emerging sectors, such as new-generation information technology, advanced equipment, new materials, new energy, energy saving and environmental protection.
With much higher research and development investment than that of comparable firms listed on other domestic boards, the first batch of 25 companies on the STAR Market are mainly in the new-generation information technology, advanced equipment and bio-medicine sectors.
(SD-Xinhua)