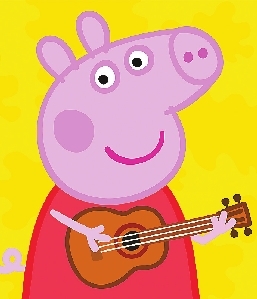 THERE are few other characters in kids' TV better equipped to take over the music industry in the same way as Peppa Pig. With a valuation of around US$2 billion and a global following, it's small wonder that Peppa's album is dropping.
The globally-beloved British swine dropped its first album, fittingly titled "My First Album," on Friday. Upon its announcement, Peppa Pig earned the attention of currently-viral rapper Lil Nas X and once-viral rapper Iggy Azalea, the latter of whom requested a collaboration with the princess of pork pop.
Long before her new album was announced in early July, Peppa already earned viral meme status among children and non-children alike. One scene, in which an upset Peppa hangs up the phone on her friend Suzie Sheep, became the source of countless memes in 2018 ranging from robocalls to Nicki Minaj rants.
Peppa Pig's first album could have capitalized on her instant virality with this debut album, turning its sly British humor for kids into pop gold for everyone.
But it's a little too quaint, a little too old-fashioned for these modern times, when kids have the cultural fluency to dance along to viral rap songs and become meme icons of their own.
Much of the accompaniment is glockenspiel and piano, along with a children's choir that joins in with Peppa and her friends.
None of the songs on the album are as immediately catchy as "Baby Shark," nor does it have the cultural status of a Sesame Street song like "Rubber Duckie."
"Getting Ready Song," an instruction manual on personal care set to the tune of "Row, Row, Row," is self-explanatory and probably a little bit dull for even the youngest of children.
(SD-Agencies)