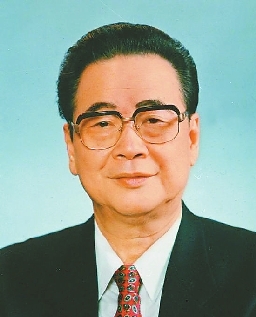 LI PENG, former chairman of the National People's Congress Standing Committee, died of illness in Beijing at the age of 91 at 11:11 p.m. Monday, an official statement said yesterday.
He had served as premier, a member of the Standing Committee of the Political Bureau of the 13th, 14th and 15th central committees of the Communist Party of China (CPC), and a member of the Political Bureau and member of the Secretariat of the 12th CPC Central Committee, according to an obituary notice jointly issued by the CPC Central Committee, the NPC Standing Committee, the State Council and the National Committee of the Chinese People's Political Consultative Conference.
Li was extolled in the statement as an excellent Party member, a time-tested and loyal communist soldier, and an outstanding proletarian revolutionist, statesman and leader of the Party and the state.
Li was born in 1928 in the city of Chengdu, capital of Southwest China's Sichuan Province. He joined the CPC in 1945.
His father, Li Shuoxun, was one of the earliest CPC members. He was killed in Hainan Island by the Kuomintang when Li Peng was only 3 years old.
His mother, Zhao Juntao, used to be an educator and also one of the early CPC members. She passed away in 1985.
His wife graduated from the Harbin Foreign Languages Institute and worked in the power departments for many years. The couple has two sons and one daughter. (Xinhua)