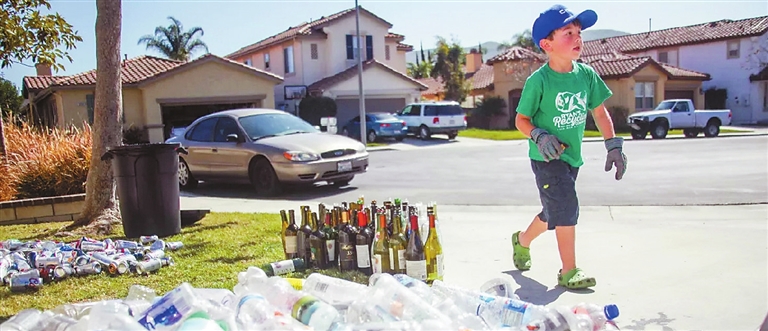 Ryan Hickman's career as a recycling prodigy began with a crunch. A bunch of them, actually.
It was the crunching sound of aluminum cans and plastic bottles being compacted at the re-Planet facility near his San Juan Capistrano home in California, the United States, that caught his attention.
"I don't remember that much about going, but I liked putting my hand through the holes. And I liked the sound of the crunching," Hickman says as he enthusiastically makes crunching sounds.
He was hooked. Hickman was 3 years old at the time, still small enough for his dad to be carrying him in one arm while he popped cans and bottles into the receptacle. Now at 9 years of age, he has his own recycling business that has raised thousands of dollars for charity and has become somewhat of a national celebrity.
He announced to his parents a few days after that first visit that recycling would be his new business, then promptly told all the neighbors on his street the same. They quickly responded, and just like that a new path opened for the young entrepreneur.
"I just wanted to get more cans and bottles," Hickman says. His mom, Andrea, says collecting the bags was a great way for him to get to know the people in his neighborhood. A steady supply of recyclables began to flow from the neighbors, and the neighbors' friends, and his parents' coworkers.
At least three days a week — and after he's done his homework — Hickman is out sorting plastic, aluminum and glass. The side yard of their house is filled with 16 recycling bins that Andrea says are "sorted out per his instructions."
Hickman's story went viral about two years ago, and he now has around 200 million social media video views. The business he started at 7, Ryan's Recycling, has recycled an estimated 412,000 bottles and cans, or about 83,000 pounds (37,648 kg) of what otherwise would be garbage at a landfill. His customers now include clients as far away as Westminster and businesses like the El Niguel Country Club, where the maintenance staff keep a collection for him.
The T-shirts he sells on his site have raised more than US$8,200 for Laguna Beach's Pacific Marine Mammal Center, and is used for food and medicine for injured seals and sea lions.
According to his father, by the age of 7, the boy has saved over US$11,000. The money is going toward a college account, though Hickman says he wants to buy a full-size trash truck and eventually become a garbage man.
He's appeared on the "Ellen Show" and in publications around the country. He was elected a CNN Young Wonder in 2017, and the Wyland Foundation gave him an Ambassador of the Planet Medal last year. Kids from as far as Dubai have contacted him about starting their own efforts.
"I'm doing it just because I'm having fun and it helps everybody," Hickman says. (SD-Agencies)