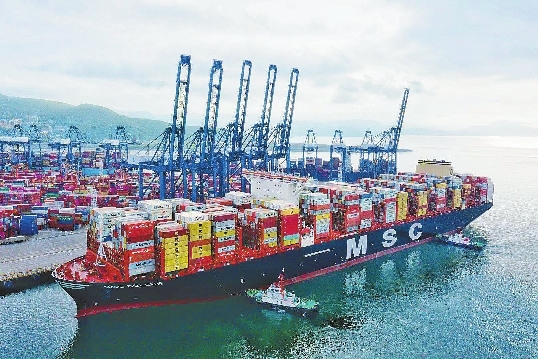 THE world's largest container ship MSC Gulsun, with a capacity of 224,986 tons and ability to transport 23,756 TEUs (twenty-foot equivalent units), was docked at Yantian International Containers Port (YICT) on Tuesday.
The ship, operated by Swiss-based Mediterranean Shipping Company (MSC), is the first ship by South-Korean manufacturer Samsung Heavy Industries to be delivered to receive service at YICT.
MSC, the world's second-largest shipping line in terms of container vessel capacity, had ordered 11 such ships for its business routes that link all the world's major ports.
The MSC Gulsun is 400 meters in length, 96 meters longer than the Chinese Liaoning aircraft carrier, ad 62 meters in width. The size of the deck is equivalent to three standard soccer fields and when in full load, the containers can reach a height of up to 20 stories.
The MSC Gulsun mainly serves on the route between Asia and Europe. A single voyage takes 36 days. YICT port is the last port of the ship's maiden voyage to China. Next, it will ship to Europe through Tanjung Pelepas Port of Malaysia. A total of 4,200 TEUs will be loaded and unloaded during its call at YICT.
YCIT owns 20 berths and can accommodate the world's largest containers. Statistics show that every vessel with a capacity of 18,000 TEUs or above in the world has docked at the port.
The container throughput at Shenzhen port had reached 12.4 million in the first six months of the year, an increase of 2.75 percent year on year, statistics from a Shenzhen transport bureau showed last week. Compared with the three ports in Shenzhen, YICT completed 6.08 million TEUs between January and June, an increase of 4.76 percent over the same period last year, while the ports in Nanshan, including Shekou container port and Chiwan container port, completed 5.69 million TEUs, an increase of 0.90 percent. The Dachanwan Port completed 627,400 TEUs.  (Han Ximin)