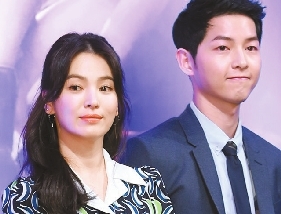 THE marriage between South Korean power couple Song Joong-ki and Song Hye-kyo is now legally over, with the court approving their divorce settlement Monday.
According to the Seoul Family Court, a closed-door hearing was held, with only the legal representatives of the two actors in attendance.
"Given that the conclusion was made in a relative short period of time, I believe both sides reached an agreement on all conditions (for divorce) before actor Song raised the issue," said a spokesman for the court, reported The Korea Times.
The settlement comes a month after actor Song Joong-ki filed to end his marriage to actress Song Hye-kyo. The couple, who met while filming the hit drama series "Descendants of the Sun" in 2016, tied the knot in October 2017.
According to actress Hye-kyo's agency UAA, there will be no division of property or settlement money.
According to entertainment site Soompi, the couple have a reported combined wealth of over 100 billion won (US$88.3 million), which includes money earned from endorsements and advertisements as well as real estate. Both stars had already acquired a substantial amount of wealth prior to their marriage in October 2017.
(SD-Agencies)