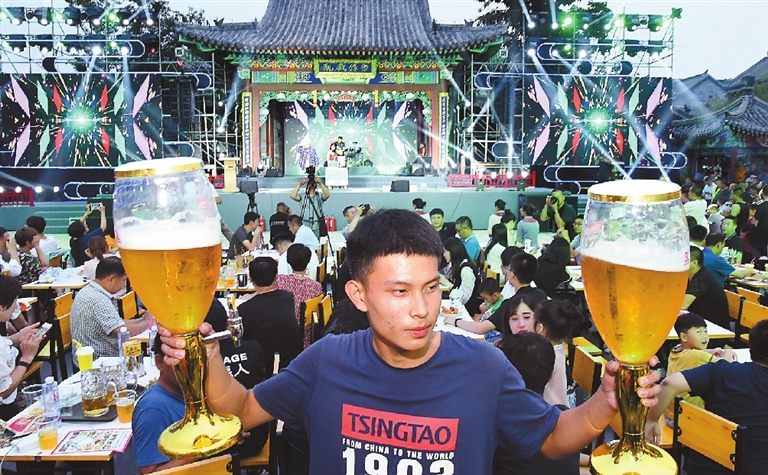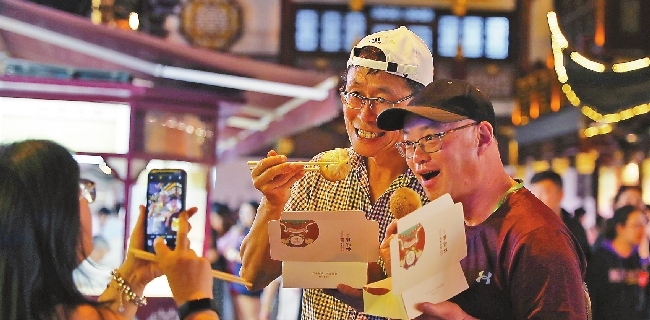 DRESSED in long gowns, two folk artists performed xiangsheng, or crosstalk comedy, and interacted with an excited audience at a new indoor night market in North China's Tianjin Municipality.
Sun Tao, a staff member of a local crosstalk comedy theater troupe, said Chinese crosstalk comedy made a comeback thanks to the new venue in Hedong District. At the night market, people can grab a few snacks while watching the show, which has been listed as an invaluable intangible cultural heritage.
Decorated with red lanterns, traditional postboxes and old-fashioned coal stoves, this night market attracted more than 70,000 people in the first 10 days after it opened in early July with a total profit of 3.2 million yuan (US$465,000).
Local authorities also took measures to manage and safeguard the night market.
He Yunxiang, deputy director of the Bureau of Commerce in Hedong District, said they have focused on solving the problems of garbage disposal, water and gas supplies, and noise pollution at the night market.
Dong Jinping, with the Tianjin Municipal Public Security Bureau, said the bureau has strengthened the police force in the area and increased the frequency of patrols for a peaceful and stable night economy.
Five Avenue, a century-old historical block in Tianjin, also shows its unique charm and vitality through its nighttime economy. More than 900,000 people visited the place in the first two months since the night market opened May 18.
Shen Yuxin, a waiter at a dessert shop on Five Avenue, said they got over 20,000 orders each day, "A lot more than before."
Tianjin now encourages malls, supermarkets and convenience stores to stay open later and plans to build new stores with 24-hour service.
Wang Yitong, a 25-year-old Tianjin resident, said people have a more splendid nightlife to enjoy now. "Extending the business hours of shopping malls and supermarkets offers us more convenience," Wang said.
According to a report issued by Meituan Dianping, a popular online-to-offline platform, China's nighttime dining consumption went up by 47 percent in 2018, higher than daytime consumption growth, with Beijing and Shanghai ranking the top two in nighttime dining consumption. The report also shows that most nighttime consumers are in their 20s and 30s.
The nighttime economy refers to business activities between 6 p.m. and 6 a.m. in the service sector. Many Chinese cities have rolled out plans to support nighttime consumption to drive economic growth.
For example, the city of Shanghai plans to develop the Nightlife Agglomeration Area with an increased number of parking spaces, taxi waiting areas and late-night bus services.
Shanghai also plans to push for a greater diversity in the types of nighttime programs, such as operas, musicals and museum tours, and plans to maintain an open attitude toward late-night bookstores, cinemas, music clubs and live houses.
In April, the Shanghai municipal government also introduced another guideline for promoting the nighttime economy. Measures included the appointment of experienced nightlife business managers as "nightlife CEOs" who serve as assistants and advisers to officials, in light of the successful nightlife experiences of other megacities around the world. So far, more than 10 people, mostly managers at real estate or retail companies, have been appointed to this job.
Beijing extended the running hours of its subway Line 1 and Line 2 for Fridays and Saturdays, requiring the last train to depart after midnight since July 19.
In April, Beijing announced its plan to build and upgrade 10 food streets into "midnight canteens" for night owls in the next three years. According to its government work report earlier this year, Beijing will encourage malls, supermarkets and convenience stores to stay open later.
In an effort to become a major nightlife center, Chongqing is recruiting street artists from around the world to help create more nightlife attractions. Shijiazhuang, capital of North China's Hebei Province, has lowered the electricity cost of stores extending running hours at night by 0.2 yuan per kilowatt-hour, reducing the financial burden on local shopping malls that opt to stay open late.
The nightlife boom came after increasingly rich Chinese citizens increased their spending on leisure. China's GDP grew by 6.3 percent in the first half of this year, and consumption accounted for 60 percent, which continued to be the first driving force for the country's economic growth. Among them, nighttime consumption shows giant potential, according to the National Bureau of Statistics.
"The nighttime economy has become a new engine to enhance the city's vitality and promote China's development," said Wang Xiaoguang, deputy director of the economics department of the National Academy of Governance.
Business sentiment is upbeat about the potential of China's nighttime consumption market. Nearly 60 percent of the surveyed travel companies expected a 10-20 percent increase in the scale of China's night-tour market, and more than 80 percent decided to expand their investment in this field, according to a survey conducted by the China Tourism Academy (CTA).
"The total retail sales of social goods at nighttime in Shanghai is close to half of the daytime," said Dai Bin, president of the CTA, adding that 80 percent of 657 tourism companies are willing to increase investment in night travel.
During the May Day holiday this year, the total consumption volume at night accounted for 29.92 percent of the whole day, according to the China Tourism Academy and China UnionPay Merchant Services Co.
Wang said Chinese cities have developed rapidly in the past few decades, but some urban centers still lack vitality due to such factors as high housing prices, long commutes, and inconvenient service networks.
"It is necessary to reform from the supply side, roll out policies and improve the service quality," said Wang.
In 2018, the total revenue of Chinese tourism reached nearly 6 trillion yuan. Most of the consumption occurred in the daytime. If the "golden four hours" (from 6 p.m. to 10 p.m.) of night consumption can be fully developed, the revenue of Chinese tourism is expected to increase about 600 billion yuan, according to Dai.
"The nighttime economy meets people's expectations, motivates industrial and commercial enterprises, and spurs the enthusiasm of local governments," Dai said.
To further facilitate the nighttime economy, the supply structure of nighttime consumption should be improved to provide customers with more diverse services other than dining and shopping, said Zhao Ping, a researcher with the Academy of China Council for the Promotion of International Trade.
Local government should create a sound business environment and step up oversight on food safety and environmental pollution, Zhao added.
(Xinhua)