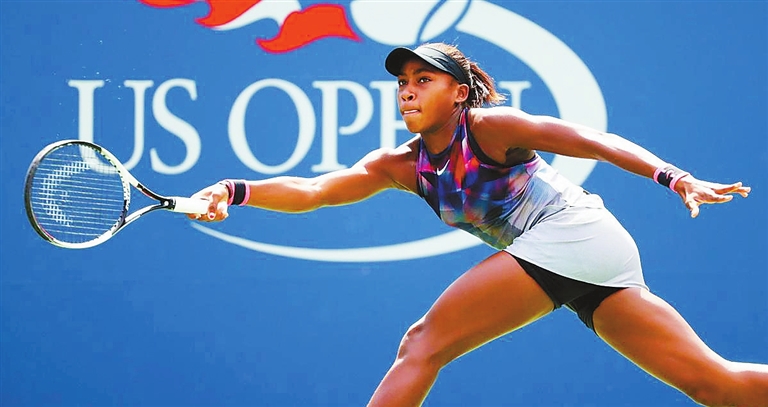 Most 15-year-olds are studying history at school. Cori Gauff, though, has made it.
The 15-year-old became the crowd favorite at this year's Wimbledon. She first upset her idol Venus Williams in straight sets in the first round on July 1, and then took down Magdalena Rybarikova in the second round in straight sets. Her antics in the third-round Wimbledon match drew the most attention; she came back to defeat Polona Hercog after losing the first set and trailing 5-2 in the second. Although she succumbed to No. 7-seeded Simona Halep in the fourth round for a straight set loss 6-3, 6-3, still she is the youngest tennis player to win a match at Wimbledon since Jennifer Capriati in 1991.
"She put the ball in the court, which was much better than I did. She served well, moved well. It was a great match for her," Williams said of her opponent after the match.
Gauff, who was born on March 13, 2004, was not even born when Williams reached her four of nine Wimbledon finals.
Gauff, who is ranked No. 301 in the world, is based out of Delray Beach, Florida, the United States, and has been a rising star for years, winning multiple junior titles before making it to Wimbledon this year.
As Gauff continues her journey to become the "greatest tennis player ever," as she aspires, here's everything to know about the teenage tennis star.
Coach dad
Following in many famous, young athletes' footsteps, the high school student's primary coach is none other than her father, Corey Gauff.
A former Georgia State University basketball player, Corey Gauff trains his daughter at Serena William's coach Patrick Mouratoglou's French tennis academy, according to the New York Times.
"I've always challenged her, from the beginning of this when we started, telling her that she'll be able to change the world with her racket," he told the Times of his daughter, who started playing tennis at age 7.
Defeating her idol
Both Venus and Serena Williams have been role models for the young tennis star, but the famous sisters have also become her fans.
Gauff's first Instagram post is a photo with Serena, who had said that the young star reminds her of her sister and of herself.
"Cori is such an exciting young player. She's so cool," Serena said at a pre-tournament press conference.
On the rise
Gauff is already sponsored by big-name brands including Barilla and New Balance, which she can often be seen wearing at matches and on her Instagram.
The sneaker and athletic wear giant began sponsoring Gauff last year when she was only 14, CNN reported. "I want to be a role model to as many young athletes as possible," Gauff said in a New Balance statement announcing her sponsorship.
Teen spirit
When Gauff isn't jet-setting around the world from match to match, she enjoys the same things that other teenagers do.
Her favorite musical acts include Jaden Smith, for whom she Instagrammed an announcement about his new album dropping in November, and Ariana Grande, whose "Sweetener" tour concert was attended by Gauff.
The tennis phenomenon is also a Marvel fan, dressing up as "Daughter of Oden" for Halloween last year.
Gauff also uses her social media for good, most recently linking to a UNICEF article about the crisis in Sudan and asking people to donate.
(SD-Agencies)