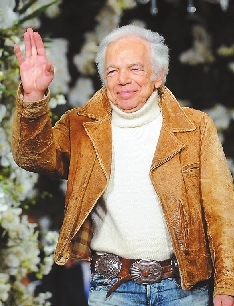 RALPH LAUREN is one of the most iconic names in fashion — his eponymous brand launched in 1968 — and now, he's about to get the real movie-star treatment. HBO announced it's releasing a documentary about the industry legend titled "Very Ralph," which will debut Nov. 12. The documentary, directed and produced by Susan Lacy, will feature interviews with Lauren, in which he reflects on his beginnings in the Bronx as a young boy and how his name became synonymous with American style. (He creates Team USA's Olympic uniforms.)
His family and friends — including Anna Wintour, the late Karl Lagerfeld, Hillary Clinton, Naomi Campbell, Martha Stewart, Diane von Furstenberg, Jessica Chastain, and others — have also been interviewed for the feature-length flick.
Lauren is the first designer who established an all-encompassing lifestyle brand, expanding into home furnishings including bedding, bath products, dinnerware and other decor. His other ventures include his own super-swanky restaurant, The Polo Bar, on Fifth Avenue in New York City and his own coffee shop, Ralph's Coffee, located inside his flagship store on the Upper East Side.
Designer-focused documentaries seem to be on the rise recently: "Celebration," about designer Yves Saint Laurent, hit screens in November last year; "McQueen," which reflected on the work, personal life, and emotional state of Alexander McQueen throughout his life, premiered on Netflix the same year; and "Halston," about Roy Halston Frowick, whose fans included the likes of Jackie Kennedy and Lauren Bacall, was released in January 2019.
(SD-Agencies)