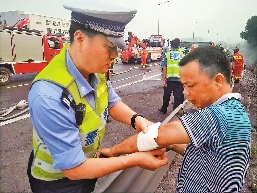 A MEMORIAL service will be held today at Shenzhen Funeral Home to bid farewell to Liu Haifeng, a police officer who died in the line of duty at the age of 47.
On the night of July 24, after working for 13 hours, Liu, the unit chief with Western Expressway Brigade of Shenzhen Traffic Police Detachment, collapsed on his way to his dormitory.
The ambulance arriving at the scene failed to revive Liu, who had devoted 27 years to serving the public as a police officer.
According to Liu Yuxuan, Liu Haifeng's colleague, Liu felt unwell after completing his night patrol and called him for help parking.
"Chief Liu was leaning with his hands against the car when I saw him, and did not look well, with sweat on his forehead. He seemed to have suffered heatstroke," officer Liu recalled.
Liu Haifeng became a police officer in 1992 after graduating from the Shenzhen police school and had been serving in the traffic police department for more than eight years.
In eight years, Liu patrolled 480,000 kilometers, equivalent to 12 times the length of the equator. In 2018 alone, Liu and his team handled 652 cases involving pedestrians who had illegally entered expressways and 28,218 traffic accidents.
On weekends and holidays, and during typhoons, when the traffic on expressways is often congested, Liu and his team would spend extra hours diverting vehicles and handling emergencies to ensure a smooth traffic flow, getting little rest.
Due to their efforts, Guangzhou-Shenzhen Expressway, which is under the administration of the unit, has seen a drop in the number of traffic accidents. In 2018, only one fatal accident was reported.
Liu's team not only maintained a record of zero complaints from the public, but also received gratitude from drivers who were punished for traffic violations.
In 2018, Liu's unit handled 114,174 traffic violations, including 48,693 involving failure to fasten safety belts, 267 cases of driving under the influence of alcohol and 2,310 illegal uses of emergency lanes.  (Han Zikai)