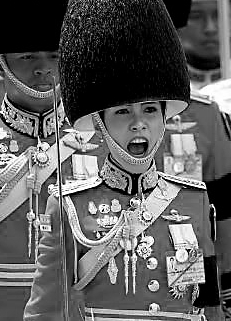 THAILAND'S King has made his mistress a royal consort in a ceremony attended by his new wife, marking the first time the country's modern monarchy has publicly admitted to polygamy.
King Maha Vajiralongkorn, also known as Rama X, made his former bodyguard Sineenat Wongvajirapakdi, 34, his chao khun phra (royal noble consort) in a ceremony on his 67th birthday. Queen Suthida was sitting next to him throughout the unusual ceremony.
He poured ceremonial water over Sineenat's head to officially anoint her a concubine during a televised service July 28.
During the service she lay on the floor to remain lower than the King's feet, in accordance Thai royal tradition, which is viewed as a sign of great respect for the bride.
The move marks the first time a Thai king has publicly had more than one partner since an absolute monarch ruled the country in 1932.
Major General Sineenat was also given four medals, such as "most noble order of the crown of Thailand" and "most exalted order of the white elephant, special class," as well as being lauded for her time as a senior officer in the King's bodyguard team the Ratchawallop Police Retainers.
Sineenat, who is known as Koi but used to be called Niramon Ounprom, was formerly a nurse at the Ananda Mahidol army hospital.
The news comes less than three months after the King married another former consort, Suthida Vajiralongkorn na Ayudhya, who had been a Thai Airways flight attendant.
(SD-Agencies)