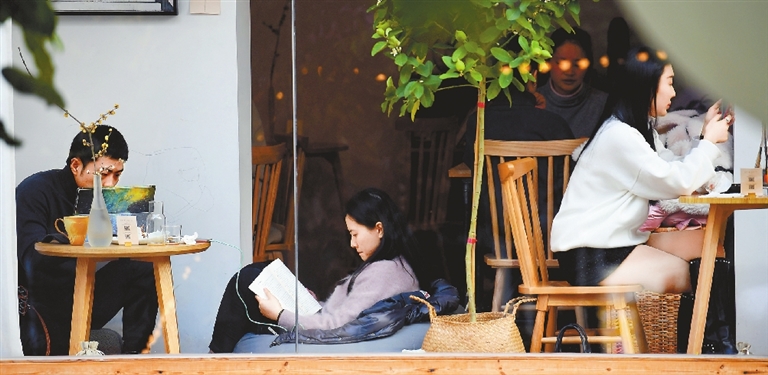 FU NINGHUI is more than happy with her new life after moving to Zhengzhou, the capital of Henan Province.
Last year, after living and working for six months as a translator in Shenzhen, Guangdong Province, the 24-year-old relocated to Zhengzhou, one of the country's "new first-tier cities."
Shenzhen is one of four first-tier cities, along with Beijing, Shanghai and Guangzhou, the capital of Guangdong.
Fu said that compared with existing first-tier cities, Zhengzhou offers a much slower pace of life and puts less pressure on young people.
"I no longer have to spend huge amounts of time at work or on commuting, which means I have more time for the things that I'm interested in, such as practicing yoga," she said.
Like many graduates, Fu's first stop after leaving college with a bachelor's degree in translation was a first-tier city to pursue opportunities in both her career and personal life.
However, she soon found that events did not pan out the way she had expected. Competition for translators was fierce in Shenzhen, and she often felt she was at a disadvantage. Property prices were also too high for young people to afford.
It was not long before Fu decided to move to Zhengzhou, the biggest city and the only "new first-tier" one in Henan, her home province.
The term "new first-tier cities" was first coined by the Chinese media six years ago, through rating cities on the basis of five factors: richness of commercial resources, convenience of intercity transportation, the active lives of the urban population, the diversity of lifestyles and development potential.
Using these factors, 15 centers have been recognized as new first-tier cities. Along with Zhengzhou, they include: Chengdu, capital of Sichuan Province, Hangzhou, capital of Zhejiang, Chong-qing, Wuhan, the Hubei provincial capital, Shenyang, capital of Liaoning and Kunming, capital of Yunnan.
Ding Changfa, an associate professor of economics at Xiamen University in Fujian Province, said the emergence of these cities stems from attempts by first-tier metropolises to resolve the "metropolitan malaise."
To ease overpopulation, congestion and pollution, the four first-tier cities have set targets to guide the outflow of people and industries. New first-tier cities, most of them provincial capitals or regional centers, are taking over some functions of the "big four" by becoming homes to professional talents and industries, Ding said.
Liu Yuanju, a researcher with the Shanghai Institute of Finance and Law, said that as property prices in first-tier cities have soared in recent years, it has become increasingly difficult for young people to buy homes.
In recent years, researchers have found the ability of new first-tier cities to attract talents, particularly young college graduates, has clearly increased, overtaking the "pulling power" of first-tier destinations.
Last month, a survey conducted by Xinhuanet and Ziroom, an online apartment rental platform, showed that in 2018, the number of people renting homes in new first-tier cities such as Tianjin, Hangzhou, Chengdu, Wuhan, Nanjing and Xi'an increased at a faster pace than in first-tier cities.
Graduates' choice
The latest statistics from MyCOS, a Beijing provider of data survey and analytical consulting services in higher education, show the proportion of college graduates choosing to work in new first-tier cities rose from 22 percent in 2014 to 26 percent last year.
The proportion of those opting to work in first-tier cities during the same period dropped from 25 percent to 21 percent.
In May, a report on college graduate employment by the recruitment website Zhaopin showed that 44 percent of the graduates surveyed hope to work in new first-tier cities, 4 percentage points up from last year. Some 31 percent hope to work in first-tier cities.
The report said industries in new first-tier cities are developing rapidly and have a great need for talent. To fill the gap, the cities have implemented a series of preferential policies, such as lowering the threshold for gaining a permanent residence permit and providing financial support for college graduates to buy homes.
The report said the favorable policies, more job opportunities and relatively low living expenses have all helped these cities to surpass their first-tier ones in becoming graduates' favorite destinations to work and live.
The ability of graduates to move to new first-tier cities is not only benefiting these young people, but also the destinations, and even the entire country.
Ma Yan, deputy director of the MyCOS Research Institute, said graduates are precious human resources that enable cities to thrive and remain vigorous, adding that the arrival of young talent will accelerate the upgrading and transformation of industries in these emerging cities. "The development of new first-tier cities will drive local economies and help rectify the imbalance among different parts of the country," she said.
However, gaps still exist between first-tier and new first-tier cities in various aspects such as education, health care, transportation, entertainment and environmental conditions.
Fu, who moved to Zhengzhou, believes such shortcomings are only temporary. "I believe there are great opportunities and good lives waiting for us," she said.
(China Daily)