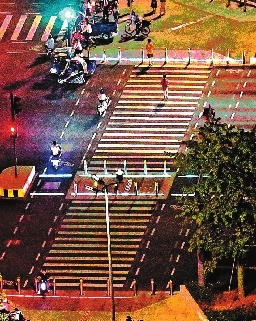 AN automatic light perception system has been installed on four zebra crossings at the intersection of Bao'an Avenue and Chuangye First Road in Bao'an District, drawing residents' attention.
The zebra crossings will be simultaneously lit up with the same color as the traffic lights to help the elderly and disabled people correctly notice the traffic signal.
According to the Bao'an administration of the Shenzhen Municipal Transport Bureau, the system was designed to increase the safety of pedestrians and improve the appearance of the intersection. It can also remind drivers and help pedestrians judge the traffic light.
A reporter with the Bao'an Daily witnessed the system automatically turn on at around 7:30 p.m. When the traffic lights turn red, the light strips on the ground follow accordingly to turn red.
Moreover, each right-turn lane at the intersection has had light strips installed that can automatically recognize pedestrians' movements and turn the strips white and keep flashing, which helps drivers recognize pedestrians at night.
A resident surnamed Le, who lives in the central part of Bao'an, told the reporter that when she learned that Bao'an had taken the lead in piloting the automatic light perception system for zebra crossings, she felt proud. She believes that this transportation service will play a role in building an international city. (Jiang Wenyi)