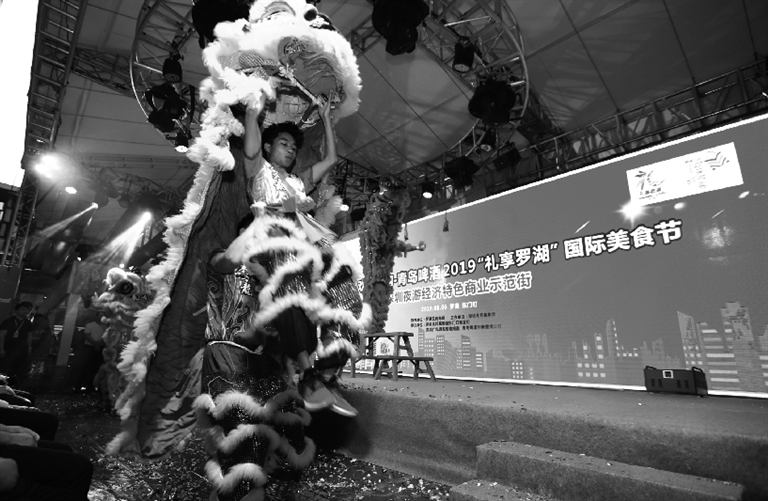 Han Ximin
ximhan@126.com
THE service hours of businesses at Dongmen Pedestrian Street in Luohu District will run until 2 a.m. as a way to stimulate the night economy.
As a demonstration street to showcase the city's night economy, the vendors along the business street are teaming up to offer discounts and quality services in dining, shopping and entertaining through different activities, such as promotions, challenges, cosplay performances, flash dances and online gaming contests.
The night businesses and promotion activities, part of the city's monthlong shopping and touring carnival, will run until the end of August.
"Dongmen business circle has its advantages in promoting the night economy. It was recently rated as one of the city's top 10 food streets," said Zhou Jianjun, director with the Luohu District Commerce Bureau. "Night economy has its own charisma, especially to young people in the city who tend to be revitalized by shopping, eating and socializing after a day's work."
A recent report on nighttime consumption released by a well-known consulting company shows Shenzhen ranks No. 2 in the nightlife index, following Shanghai.
The report describes nightlife as part of the nighttime economy. It refers to a wide range of consumption experiences in the categories of leisure, live entertainment and cultural activities that take place between 6 p.m. and 6 a.m.
Nightlife can take place in a variety of spaces, such as restaurants, pubs, nightclubs, sports stadiums, concert halls, music venues, multiplex cinemas, festivals and galleries.
According to a nighttime consumption report by Alibaba, Shenzhen is among three cities with night moviegoers. Regarding online shopping, the period between 9 p.m. and 10 p.m. saw the peak for number of transactions. Shenzhen, Wuhan and Changsha are the top three cities for nighttime delivery orders.
Every night in Shenzhen, there are 1,000 movies on show, and the orders for night meals between 9 p.m. and 2 a.m. rank No. 1 among Chinese cities. The ratio of Shenzhen people enjoying nighttime sports also ranks first among Chinese cities. Residents who partake in sports after 6 p.m. make up 70 percent of the daily sports-playing population.
"Big data shows Shenzhen is a city where people go to sleep late. Regarding economics, 60 percent of consumption happens at night. Through nighttime activities, such as nighttime performances at theme parks, consumption is stimulated," said Xiao Liangsheng, a researcher with OCT Innovation Research Institute.
Tan Zhongnan, operation supervisor with Shenzhen Dingzhi Future Culture Creation Management Co., thinks Shenzhen, a young and vibrant city, has strong nighttime consumption potential.
By integrating and utilizing the existing commercial resources, the government and tourism associations can work out nighttime consumption plans to stimulate the development of the night economy.
Shenzhen launched a full month of shopping and tourism activities earlier last week, offering local residents and travelers a unique shopping experience replete with promotions and discounts.
More than 100 business complexes, 500 large-scale enterprises, 5,000 stores and 10,000 brands in various fields joined the shopping festival this year.
The festival highlights major business activities in commercial areas like Dongmen, Huaqiangbei and Coastal City, and showcases the city's advantages in consumer electronics, gold jewelry and apparel, while promoting Shenzhen brands and products.
In 2018, the total retail sales of social consumer goods in Shenzhen reached 616.88 billion yuan (US$88.15 billion), an increase of 7.6 percent year on year, statistics from the city's commerce bureau showed.