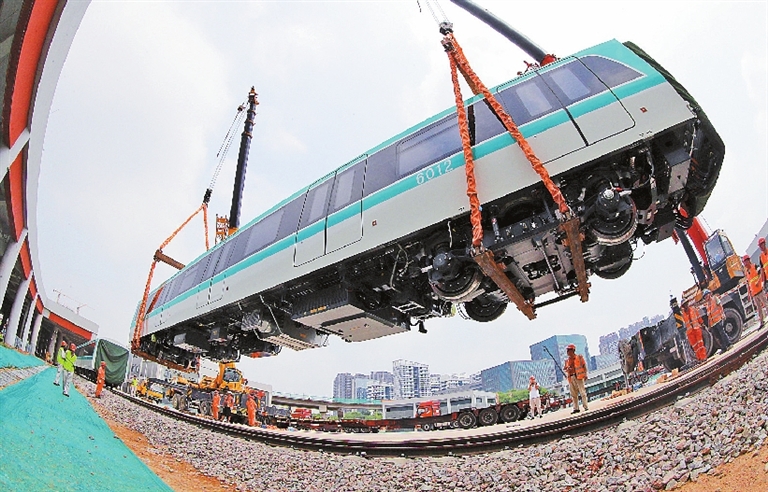 Han Ximin
ximhan@126.com
A NEW Metro train for Metro Line 6 has arrived at Changzhen Depot in Guangming District, marking the start of tests for the operation of Line 6, which is schedule to be put into use next year.
With the capacity to hold 2,502 passengers, the six-carriage train was designed to run at 100 kilometers per hour.
Coated with water-soluble paint, the train is more environmentally friendly. It is equipped with rear cameras that enable drivers to remain aware of the situation on the platform after the train has reached the station. The detection system can help detect intruding objects inside the tunnel and prevent collisions between trains. The train system has become smarter at detecting mechanical failures and safeguarding operational safety through a seamless connection with the smart operation platform.
Metro Line 6, which has a major line in Phase I and an extension line in Phase II, will be put into use in June 2020.
Phase I runs 37 kilometers from Shenzhen North Station to Songgang Station, covering Bao'an, Longhua and Guangming districts. It has 20 stations, including six stations interchanging with lines 5, 4, 13, 6 and 11.
The extension line starts at Shenzhen North Station and runs southward to Shenzhen Science Museum. The 11.77-km extension line has seven stations, including five interchange stations with lines 9, 7, 3 and 1.
In another development, Metro Line 9's extension line is expected to open before the end of the year. Once it is put into operation, a trip between Qianhai and Wenjin in Luohu District will take 44 minutes.
The 10.8-km extension line is a major rail linking Qianhai, Nanyou and Shenzhen Technology Park with Luohu and Futian districts.
It starts at Hongshuwan South Station and ends at Qianwan in Qianhai with 10 stations, including five interchange stations with lines 5, 12, 15, 13 and 11.