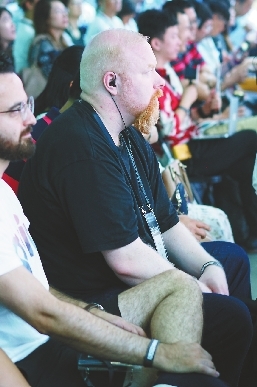 Lin Lin
linlinasa@163.com
PINGSHAN has launched a series of policies to support startups at different stages, it was announced at SLUSH Shenzhen 2019, an international startup convention held in Pingshan on Thursday.
SLUSH, originating in Finland, is one of the world's biggest events for startups. The convention with the theme, "IoT &IoV, Health Tech, AI+," launched by the Pingshan government and supported by 350 international volunteers, featured talks by 40 expert speakers from investment institutions and high-tech industries.
Tao Yongxin, Pingshan's Party chief, said in his opening speech, "As one of the youngest districts in Shenzhen, we aim to attract the most innovative startups in the world."
Tao said SLUSH targets young, international entrepreneurs from various fields including technology, art and music, and this is something that both SLUSH and Pingshan share.
Speaking of the reasons behind choosing Pingshan as the location of this event, Peter Vesterbacka, founder of SLUSH and "father of Angry Birds," said, "There's a lot going on here, there's a lot of startups, a lot of young people, a lot of energy, a lot of passion."
The event also showcased intriguing high-tech products, such as automatic cooking machines, sound-absorbing paintings and hologram screens. Rasmus Rasmusson, an exhibitor from Sweden who has lived in Shenzhen for 16 years, is convinced that, "Shenzhen is the world capital of IoT. There's no other place on the planet where you can build such a machine as here... this is the perfect place."
"This is a rock 'n' roll concert for startups," said Wang Lixin, vice mayor of Shenzhen.
The big gathering concluded with a music festival that rocked Pingshan, which aspires to breed more enterprises like Huawei and DJI.