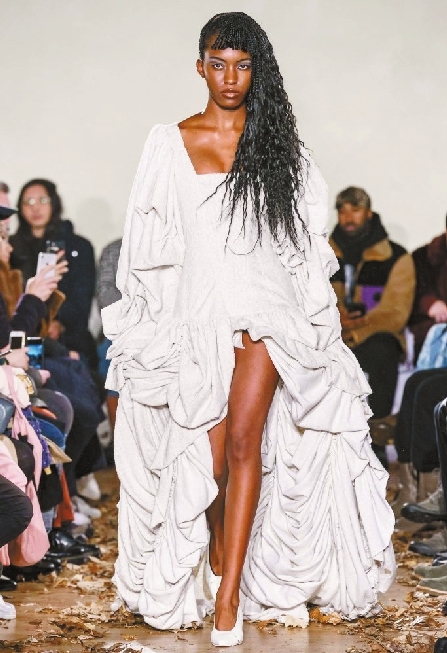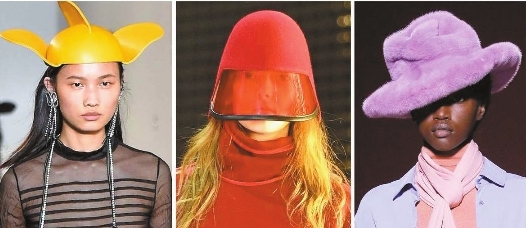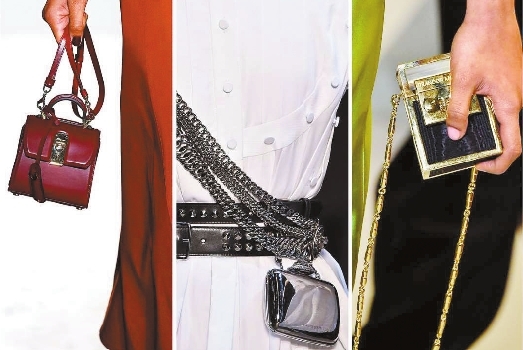 THE runways have spoken, and the '90s are back. So are the '70s. And the '80s. And so are some trends that can't be traced back to any particular decade. This is confusing, but designers like Chanel, Gucci and more declared everything from power shoulders to micro-micro bags to weird hats a thing, and we can't wait to join in.
Millennial purple
Millennial pink might be the most overused color in marketing, but purple is what every designer is suggesting for the the party circuit. The range of hues is endless, so pick your purple poison: Michael Kors presented electric sequins, Tom Ford used lavender and Rodarte presented orchid formal wear.
The cape
One of the strongest outerwear silhouettes to come out of the fall 2019 collections was the cape. Chanel gave the capelet the tweed treatment, Marc Jacobs showed one in Leopard, and Hedi Slimane's second collection for Celine made the best in basic. The many variations prove the heroic cut works for every occasion.
Cinched suiting
Designers seemed to mind meld around suit styling: It's all about the belt. Blazers came with built-in cinchers at Prada, and Marni contrasted its gray suits with heavy, chain belts. Follow their lead and nip the waist on all your suits, oversized and otherwise.
Slip into satin
Break out your steamer, because satin is back in a big way. Versace brought back their '90s satin slip dresses, updating them in neon hues. Christopher Kane, Off-White and Brandon Maxwell also got on the satin trend. The silky look makes sense for formal events, but also a dress shirt for the office.
Slashed, asymmetrical necklines
If you're on the fence about off-the-shoulder silhouettes, this asymmetric neckline is a nice compromise. Carolina Hererra's slouchy, lopsided shoulder is effortlessly put-together.
Itty bitty bags
If the micro bag wasn't for you, avert your eyes away from the next "big" bag trend: The Bitty Bag. TBB is an impractical accessory that holds approximately one Airpod, but the absurdity is part of the charm. Look to Jacquemus, Salvatore Ferragamo, and more for a little inspiration.
Renaissance
Get your giant turkey legs out, because the Renaissance has come to the runway. Vaquera showed square necklines so good you'll feel like climbing down a balcony. It's not all literal, though. Y/Project reinterpreted period dressing using the square neck silhouette on a languid body-skimming dress covered in a modern print.
Super-long coats
Tory Burch, Max Mara and others presented longline coats, a chic alternative to the floor-length puffer coats, without sacrificing style or a waistline. These longline coats aren't your typical lightweight dusters either. Instead, find them super structured and made of heavy wool.
Statement hats
Designers must be bored of beanies, because they've presented all kinds of wacky toppers for fall. The standout style belongs to Maria Grazia Chiuri's bucket hats at Christian Dior, sure to be a street style staple. Get ahead of the trend now with our current obsession, Burberry's heritage plaid bucket hat.
The Patagonia effect
The year 2018 belonged to the puffer, but in 2019, it's all about another high-tech performance fabric: fleece. We saw the trend start with Sandy Liang's Insta-favorite jacket, but designers like Fendi are ramping up the luxury, reworking the outdoorsy staple in leather. Of course, Patagonia remains the (very affordable) original.
Prep school
There was quite a bit of uniform dressing inspiration on the fall runways: polo shirts, sweater vests, and three-piece sets.
Power shoulder
The '80s is a difficult decade to pull inspiration from, but power shoulders are here. All the major fashion players like Saint Laurent and Balenciaga are advocating for the padded wide-shouldered slim-waist silhouette.
(SD-Agencies)