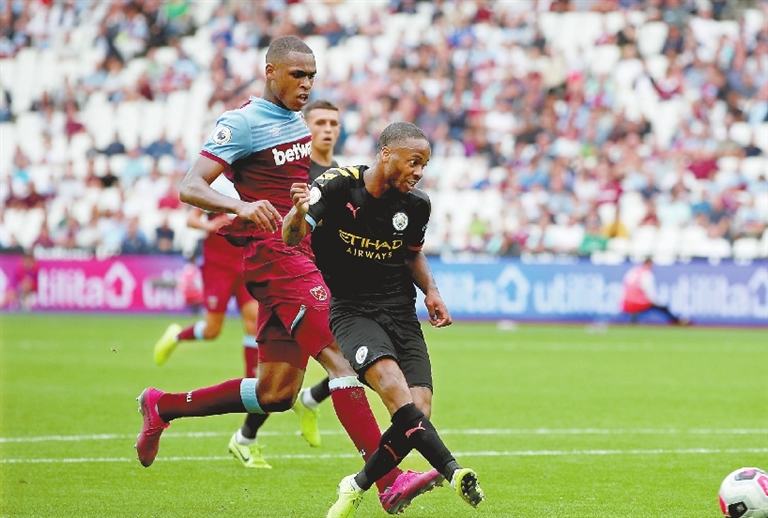 A DAY after Liverpool announced title intentions, Manchester City responded by showing why the past two trophies were theirs.
Faced with a much trickier fixture, City went to West Ham and powered past the Hammers 5-0 behind a hat trick from Raheem Sterling.
City also became the first team in English Premier League (EPL) history to have a goal disallowed by VAR, and the first team to retake a penalty after an opponent's encroachment.
The champions scored their first goal of the season when Kyle Walker chased down a ball near the goal line and cut back for Gabriel Jesus, who cleared a couple challenges to finish.
Sterling's first was City's second, with Kevin De Bruyne thundering forward and providing the slick set-up shortly after halftime.
Jesus thought he had City's third not long after, but Video Assistant Referee, making its Premier League debut this season, ruled him offside and disallowed the goal.
It ultimately mattered little. Sterling scored again in the 75th minute, and then City received a penalty kick when West Ham's Issa Diop fouled Riyad Mahrez in the 85th minute.
Sergio Aguero's first attempt was saved by Lukasz Fabianski, but several Hammers, namely Declan Rice, encroached into the area and Aguero was awarded a retake, which he converted.
Sterling scored in stoppage time to complete the second-half deluge.
On Friday, Liverpool defeated newly promoted Norwich City 4-1 at Anfield.
Norwich won the second-tier Championship last season by a wide margin. They have enough quality players to avoid going right back down this season.
They still had no answers for Jurgen Klopp's team, which put them under relentless pressure from the start. It took less than seven minutes for the hosts to capitalize, when defender Grant Hanley inadvertently steered a Divock Origi cross past Norwich keeper Tim Krul and into his own net.
Mohamed Salah scored the second goal to double Liverpool's lead before the contest was 20 minutes old, taking a slick pass from striker Roberto Firmino — who enters the season healthy after missing significant time last year because of injury — and quickly slotting past Krul with his left foot. (SD-Agencies)