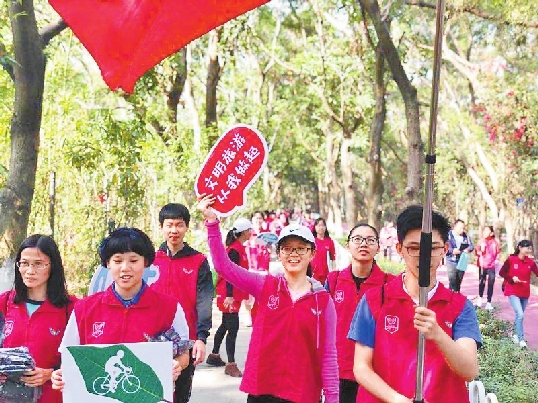 SHENZHEN, which has a total of 1.65 million volunteers serving around the city, will continue to improve volunteer services by establishing more volunteer stations and other measures.
Shenzhen Municipal Committee of the Communist Youth League of China, which oversees volunteer services in the city, said it would further improve volunteer services this year, according to the Daily Sunshine.
Shenzhen is one of the birthplaces of volunteer services in China. In 2011, Shenzhen launched a project to build a "Volunteer City."
After Super Typhoon Mangkhut hit Shenzhen last year, more than 30,000 volunteers joined forces to clean up the city and remove obstacles from the roads, helping to restore normal production to the city.
The number of the registered volunteers in Shenzhen, 1.65 million, is two times larger than the figure from 2011 and accounts for 13 percent of the permanent population.
These volunteers have provided about 58.69 million volunteer hours, organized 870,000 activities and offered an average of 480 service positions each day over the past six years, according to the report.
A total of 1,022 professional volunteer teams and 35 volunteer stations have been established in 19 fields, such as traffic control and garbage sorting, to improve public service strength and add more public service resources.
Although the volunteer work in Shenzhen has made some achievements, there are still some problems, like the suspension of the construction of several volunteer stations due to the decoration work conducted in certain places. The committee said that they will keep communicating with relevant departments to speed up construction.
The committee is also issuing a plan to promote volunteer services in three aspects, namely a volunteer service mechanism, construction of more volunteer stations and the balanced development of volunteer activities. More volunteer stations will be established in communities, public cultural facilities, scenic spots and government service halls, according to the report.
(Chen Qingxuan)