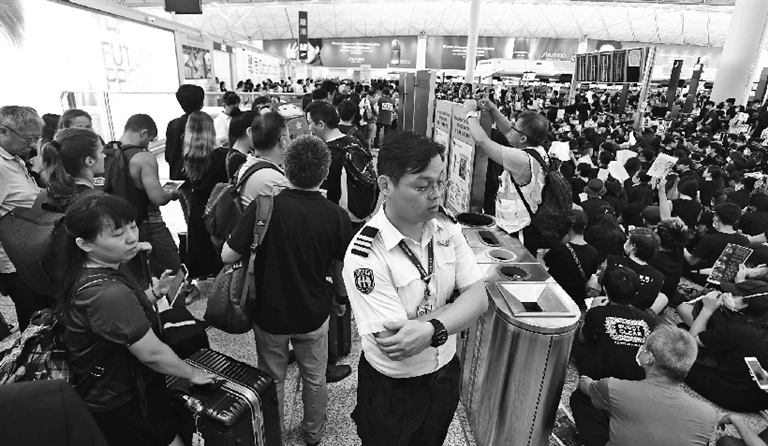 ALL flights in and out of China's Hong Kong Special Administrative Region (HKSAR) were canceled yesterday due to a protest held at the Hong Kong International Airport, according to the local airport authority.
All check-in services were suspended, said Airport Authority Hong Kong in a statement yesterday afternoon, adding that departing flights that had completed check-in procedures and arriving flights already heading to Hong Kong were excluded from the suspension.
The Airport Authority Hong Kong said it has launched an emergency management center in the airport and is keeping close contact with airliners to try to resume operation as soon as possible.
The airport authority also advised the public to avoid trips to the airport, citing traffic congestion and full parking lots.
Four bus services of the airport express have changed route and one bus station in the airport has also been closed, according to the local traffic authority.
Also, the Hong Kong government early yesterday condemned the violent acts of protesters occurring Sunday.
Some protesters Sunday even hurled petrol bombs at police, causing injuries to a police officer.
In unlawful assemblies in various districts, violent protesters vandalized public property, blocked roads, besieged police stations, aimed laser beams toward police officers and also hurled bricks to attack them, a spokesperson of the HKSAR Government said in a statement.
Due to the persistent and large-scale illegal and violent acts, some public facilities were closed early, and emergency services and commercial activities were obstructed, the spokesperson said, stressing that the rights of ordinary people to carry on their daily lives had been deprived.
Rioters attacked police stations in several places including Cheung Sha Wan, Tsim Sha Tsui and Wan Chai, hurling petrol bombs and aiming laser beams toward police personnel. A police officer in Tsim Sha Tsui was seriously burnt while on duty.
While visiting the injured officer, Hong Kong's Commissioner of Police Lo Wai-chung condemned the illegal violent acts, saying he was saddened by his colleague's injury and indignant at the rioters' violent acts that "disregarded others' safety."
Lo also vowed to spare no effort to investigate and punish any violent acts that cause serious injuries or threaten the lives of others.
A principal official of the Liaison Office of the Central People's Government in HKSAR yesterday also strongly condemned the radical violent acts of a small number of violent lawbreakers in Hong Kong.
Violent attacks were committed Sunday in multiple locations in Hong Kong, and a small number of radical mobsters attacked police stations with highly lethal weapons, including petrol bombs and large calibre shooting devices, the official noted.
The official called on the whole entire to firmly support the HKSAR Government and the Hong Kong police force in stopping violence, ending chaos and restoring order, as well as to jointly safeguard the rule of law and social security in Hong Kong.
No place in the world can tolerate such outrageous and extremist atrocities, said the official.
(Xinhua)