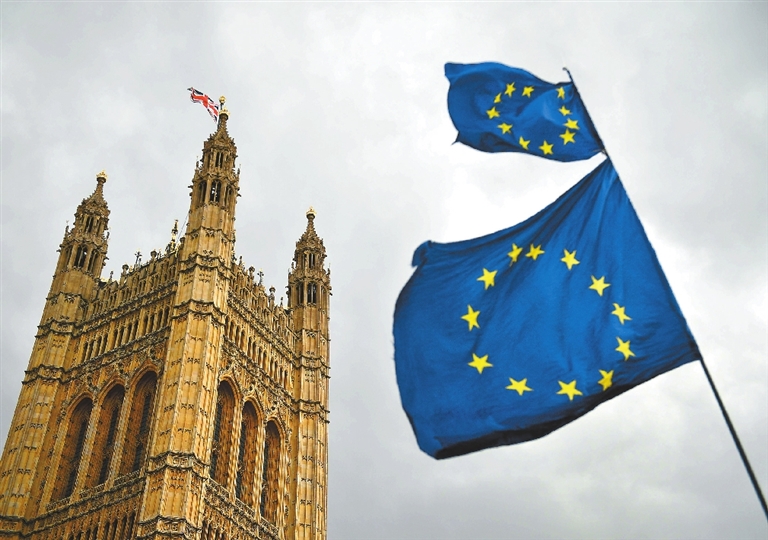 FOR market participants from the European Union (EU), "invest in China" is growing more diverse in form and richer in content, as the world's second-largest economy consistently advances more comprehensive reforms and opening up.
With a remarkable progress made in the opening up of China's capital market — the world's second-largest — the country's financial sector, in addition to manufacturing and innovation, has been playing an increasingly vigorous role for those in Europe who crave for a bite of China's economic growth dividends.
Booming channels
China's cutest friendship ambassador, the giant panda, are always greatly welcomed by the locals of European countries like Germany, France, Spain, the Netherlands, Finland and Denmark. Similarly, "pandas" in the bonds market are rising in popularity and remain attractive to European bond issuers.
Panda bonds, renminbi-denominated notes sold by a non-Chinese issuer within China, have been offering international borrowers a way to tap domestic renminbi investors.
As China improved policies to make it easier for overseas investors to issue panda bonds and invest in its bond market, European issuers, not only corporate but also sovereign issuers, become keen on this financing and investment tool connecting the world's second-largest bond market after the United States.
By raising 2 billion yuan (US$288 million) in May, with a maturity of three years, Portugal became the first eurozone country — and the third EU country after Poland and Hungary — to issue sovereign panda bonds.
With this successful transaction, Portugal has accessed the Chinese bond market to further diversify its investor base, Portuguese Treasury and Public Debt Management Agency said in a statement.
"For us it means entry into a new and huge market," Fernanda Ilheu, a professor at Lisbon School of Economics and Management, told Xinhua, adding that "We believe in the internationalization of the renminbi."
Austria and Italy, among others, have shown interest in issuing sovereign panda bonds as well.
A relevant memorandum of understanding was inked for the Austrian Government in April, while Italy and China agreed on "the first panda bond to be issued by a qualified Italian financial institution," showed the joint declaration of the "First Italy-China Finance Dialogue" in July.
Moreover, thanks to the opening up of China's capital market, channels for investing in Chinese equity market, apart from bond market, are booming as well.
For European investors in particular, the Shanghai-London Stock Connect mechanism launched in June, the first of its kind to directly link the Chinese and European markets, offering them access to China's A-shares, which have been included into key global benchmark indices.
"Shanghai-London Stock Connect brings together two of the world's largest capital markets, allowing established Chinese issuers to raise capital from London's global liquidity pool and global investors to access China A-share instruments from outside China," said Don Robert, chairman of London Stock Exchange Group.
Reap benefits
Pursuing sustained mutual benefits and win-win results, China's commitment to pushing forward opening up of its capital market is not only getting enthusiastic and encouraging responses from European market participants, but also benefiting them substantially.
For foreign corporate issuers, selling a panda bond can diversify coffers and provide funding for onshore businesses, as is the case with German automakers like BMW and Daimler. The former issued its first panda bond in March, raising 3 billion yuan, whereas the latter has been using panda bonds as a regular funding tool since 2014.
Daimler has tapped the market 14 times, raising a total of 47 billion yuan across 20 tranches, according to Euromoney and HSBC.
Norberto Rosa, secretary-general of the association of Portuguese banks, said issuing panda bonds might help overcome the lack of capital in Portugal.
In his view, there could be a good symbiosis between the Portuguese and Chinese economies. Meanwhile, Portugal could benefit from abundant capital in the Chinese market.
Robert believes established London-listed issuers will benefit from access to China's deep capital markets through Shanghai-London Stock Connect.
"All parties see the long-term benefits for companies, investors and the global economy in establishing a trading link between our two markets," he said.
From the perspective of Catherine McGuinness, chair of the policy and resources committee at City of London Corporation, the new link between London and Shanghai stock markets means global investors can benefit from China's growth through London, while British-listed companies are able to access Chinese investors directly.
Promising future
With China-EU economic and trade links further strengthening, it's widely believed that ample opportunities of financial cooperation between both sides will be exploited, at different levels and through more diversified channels.
Chinese financial institutions, for instance, which support European customers to issue panda bonds, keep intensifying localization in Europe to meet the growing demand of local customers to invest in China.
"More than half of Poland's top-30 large companies have established various forms of cooperation with us," said Xia Bin, president and general manager of Bank of China Poland Branch, which helped the Polish Finance Ministry issue panda bonds.
"For example, the leading companies in the telecommunications, super-commerce and e-commerce industries in Poland are our core customers, and we also provide them with all-round financial support," Xia told Xinhua.
Meanwhile, European experts are expecting more steady progress, step by step, of further opening up of Chinese capital market, believing that China is just heading in the right direction.
"You need this opening-up policy to continue to foster not only the China-German relationship but financial relationships across the globe," said Jochen Metzger, director general of payments and settlement systems at the Deutsche Bundesbank.
Horst Loechel, a professor at Frankfurt School of Finance and Management, noted that China's latest announcement to further open up the country's financial sector to foreign investment is good news for both China and the rest of the world and it comes "quite at the right time."
Loechel sees great opportunities for financial cooperation between Germany and China, as the China Europe International Exchange, or CEINEX, a signature project of the German and Shanghai stock exchanges, has already launched some Chinese shares in Frankfurt with great success.
"It is hoped from the Chinese side as well as the German side to continue with this development, especially also with regard to high-tech companies," he said. (Xinhua)