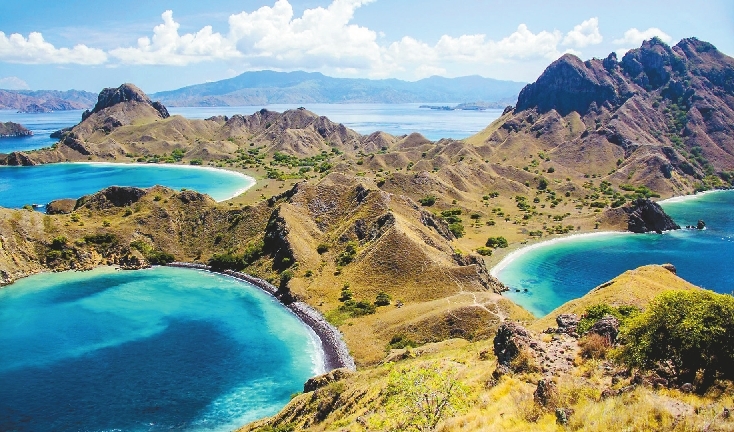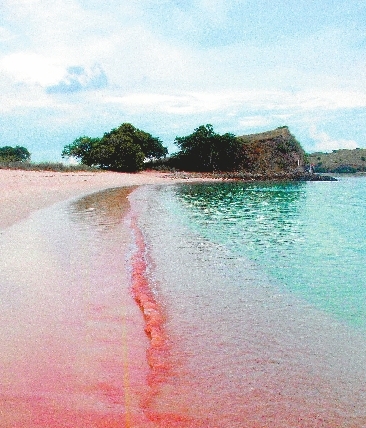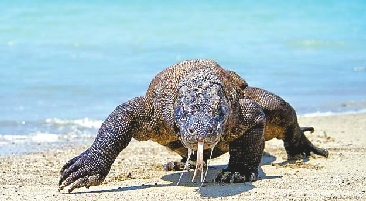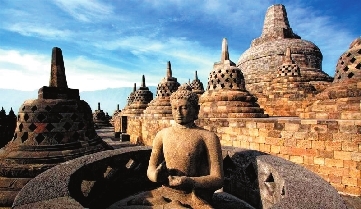 Debra Li
debra_lidan@163.com
MANY of us have visited Bali, a tropical island resort known for its postcard-worthy landscapes, relaxing spas and ancient Buddhist temples. But few have explored beyond Indonesia's poster child for tourism.
To fulfill its goal of enticing 20 million tourists from around the globe to its shores this year — 2.8 million of which are expected from China — Indonesia's tourism ministry is promoting "10 New Balis" to encourage people to revisit the country.
"Indonesia is perfect for Chinese travelers, who love island tours and readily embrace new food experiences as well as new cultural encounters," said senior tourism official Vincent Vjemadu during a news briefing in Shenzhen on Thursday. "So, Bali is not enough."
On top of the "New Balis" list is Labuan Bajo, with direct flights from Denpasar Airport on Bali. With rich marine life including colorful coral reefs underwater, it's a haven for divers and other sport fans who are up for kayaking at sea. Komodo National Park is just a few kilometers offshore, where visitors, led by tour guides, can observe the giant komodo dragons in their natural habitat. There are more than 4,000 of the 3-meter-long lizards on this island! Apart from the holidaymakers' favorite white and pink beaches, which get their rare color from dried red corals and seaweed, there are plenty of caves and lush forests for intrepid trekkers to explore. Tourists can book a tour on sailboats, some of which are refurbished ancient warships, now complete with cozy cabins and canteens serving local delicacies such as stir-fried papaya flowers and sour fish soup. A biennial cycling event, as part of UCI Asia Tour, draws professional cyclists in July, and now tourists can also participate in the "happy cycling" event that covers part of the racing route. At Reba Party, a religious ritual of the Ngada tribe that pays tribute to typhoons, tourists can live through local culture while enjoying their distinctive food and wine.
With direct flights from Kunming in Yunnan Province and more Chinese cities on the waiting list to open an air route soon, Medan is four-hour drive away from Lake Toba, a natural wonder of the world expected to make the UNESCO Global Geopark list this year. This enormous lake — the world's largest crater lake, actually — has an island almost the size of Singapore at its center. The largest lake in Southeast Asia and one of the deepest lakes in the world, Toba is a place to come and sit back, relax and absorb some beautiful, pristine scenery. To offer more entertainment choices, the government is considering putting on a "West Lake Impression"-style show at the lake, in cooperation with Chinese director Zhang Yimou, according to Mr. Vjemadu.
Flights from Bali and Jakarta are abundant to the bustling Indonesian city of Yogyakarta in Central Java, a convenient gateway to the UNESCO World Heritage Site of Borobudur. High on a mountain, Borobudur Temple rises up towards the sky. The world's largest Buddhist temple is made up of five large square terraces, with three circular platforms atop each, and a magnificent stupa at the very top.
Similarly, tourists can reach the beautiful Lombok Island in the West Nusa Tenggara Province by flights from Jakarta and Bali. Mandalika, once a surfers' best-kept secret, now has emerged as the island's capital of leisure. Apart from the crystal clear seawater, wide stretches of white sand and the refreshing wind from the Indian Ocean, it boasts vibrant bars and nightclubs, thrilling racing circuits, exciting water parks, luxurious hotels and resorts, fascinating golf courses, and rejuvenating spas.
"The government is still upgrading the infrastructure of the 10 new destinations," said Shana Fatina with the Labuan Bajo Flores Tourism Board. "But the abovementioned four, complete with facilities, are already embraced by tourists from around the world."
Currently, some 175,000 tourists visit Labuan Bajo annually. While the maximum incoming capacity is currently 250,000, the government hopes to double that number with the construction of more facilities in the next two years.