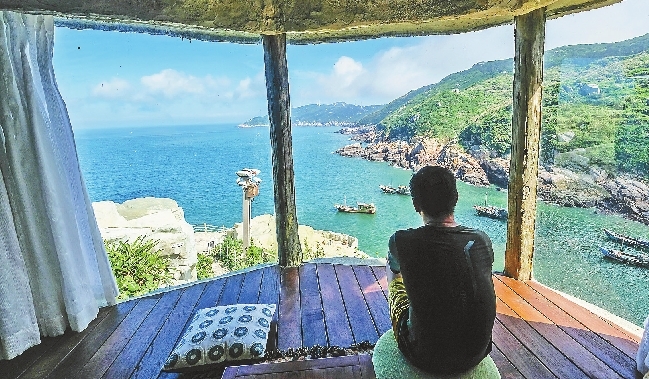 WOODEN doors and windows, glass ceilings, white walls, trees in the yard and a stunning view of the nearby mountains and forests...
These are some features envisioned for bed and breakfasts (B&B) by designer Chen Xiao, who would like to turn a dilapidated house in the village of Luxi County in southeast China's Jiangxi Province into a stylish and premium mini-hotel with local cultural elements.
Chen was one of the winners of a rural B&B design contest initiated by the local government, which aims to boost rural tourism through the introduction of landmark B&Bs that are hoped to become popular travel and lodging destinations.
China's first rural B&B came into being in 1986, when a local farmer in southwest China's Sichuan Province used his own newly built house to entertain visitors, which later became known as "agritainment," a popular and inexpensive lodging choice for experiencing rural life and a key driver for rural tourism.
After over 30 years of development, the increasing consumption power and rising aesthetic standards of Chinese travelers, the younger generations and middle-class in particular, are spearheading the renovation of the rural B&B sector.
Rural B&Bs should refrain from being simple hotel rooms or upgraded versions of agritainment farmhouses, according to Luo Shugang, head of the Ministry of Culture and Tourism (MCT).
"Rustic features are no longer enough, as there should also be a modern feel," said Li Yaying, CEO of Beijing-based Duo Meihao, a village cultural and tourism industry chain service provider. "A popular rural B&B should be as clean as a hotel, as stylish as a villa, and as cozy as one's home."
An industrial report released earlier this year showed that China's B&B market is going high-end with many chain brands coming to the fore. More and more B&Bs achieving the rustic beauty and modern comfort combination report room rates that can rival top local hotels.
The growing premium B&B market has attracted many players including designers and hoteliers to grab a bite, with emerging brands such as Yuanshe and Banbian Shanxia.
B&Bs sprung up in villages after the Chinese government unveiled guidelines on vitalizing rural areas in 2018, as an increasing number of urban dwellers tend to spend their weekends or holidays in the countryside.
China encourages qualified market players to run rural B&B brands in chain operations, and calls for sharing the market's growth with local villagers and pushing local environmental protection via green development, according to the MCT. (Xinhua)