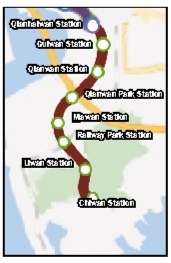 Han Ximin
ximhan@126.com
THE southward extension of Line 5, the first Metro line to go through Qianhai, will begin service Sept. 28, Shenzhen Metro said yesterday.
The line will serve as an important means of transportation for commuters to and from Qianhai-Shekou free trade area in the western part of the city.
The 7.7-kilometer extension, also called Phase II of Line 5, starts at Qianhaiwan Station and ends at Chiwan Station, including three transfer stations with the existing Line 2, Line 9 and future Line 15. It runs through Qianhai-Shekou FTA and will bring the total number of stations on Line 5 to 34.
Passengers can transfer to Line 2 at Chiwan Station, Line 9 at Qianwan Station and the future Line 15 at Railway Park Station.
At Qianhaiwan Station on Line 5, passengers can transfer to Line 1 or Line 11 to Luohu Railway Station or Shenzhen International Airport in Bao'an, respectively. In the future, they will be able to transfer to Xili Railway Station through an interchange at Railway Park Station.
Last week, the city initiated the construction of the western extension of Line 5.
The 2.9-km western extension line runs from Huangbeiling, an interchange station with Line 2, to Grand Theater Station, supporting the development of the city's eastern areas.
It has three stations, namely Dongmen Road Station, Jianshe Road Station and Grand Theater Station, which is an interchange station with Lines 1 and 2.
Upon operation in 2025, it will relieve congestion at Huangbeiling Station during morning and evening rush hours. Line 5 passengers will be able to reach the business area around Grand Theater Station without having to transfer.
The operational Line 5, running through northern Shenzhen, opened in June 2011. The 40-km line starts at Qianhaiwan in Qianhai and ends at Huangbeiling in Luohu.