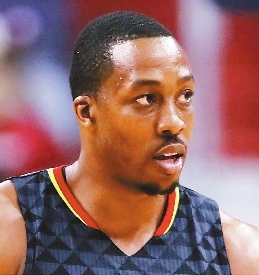 IN the wake of DeMarcus Cousins' torn ACL that will likely end his first season with the Los Angeles Lakers before it ever begins, L.A. is down to one true center: JaVale McGee.
Searching for some extra depth down low, the Lakers may turn to a familiar face.
According to a report from The Athletic's Shams Charania on Sunday, the Memphis Grizzlies have granted permission to the Lakers to speak to Dwight Howard, who is expected to eventually be released.
Howard had hinted last month that he would be open to returning to Los Angeles, despite the poor way his first stint ended.
The veteran big man spent a single season with the Lakers in 2012-13 after a blockbuster trade from Orlando that involved four teams, 12 players and four draft picks.
He saw a notable downtick in scoring and rebounding, and the Lakers only went 45-37. Howard left in the offseason to sign with the Houston Rockets.
Howard played well in three years with the Rockets, but he hasn't found a home since. He's spent each of the three last years on different teams — unceremoniously dumped each time in a trade. By now, Howard knows he is no longer the league's most dominant center, and furthermore, the league has moved away from big men being the focal point of teams' offenses. In an interview last month with Charania, he said he doesn't "have an ego" and wants to help a team win however he can.
"I want to be whatever a team needs me to be," Howard said. "I've played in every situation so far. I used to really hate how Draymond Green plays, but what I noticed watching him during these playoffs was that he does everything for the team.
"He's everywhere. He'll get a tech, he'll take a charge, he'll be everywhere on defense. He does everything. It doesn't show up in the stat sheet, but it shows up in the mind of everyone watching. I want to be that person."
Howard can still be a useful player, especially in a complementary role. Last season — when he only played nine games due to various injuries — was the first time in his career he didn't average a double-double, and he still posted 12.8 points and 9.2 rebounds per game on 62.3 percent shooting. (SD-Agencies)