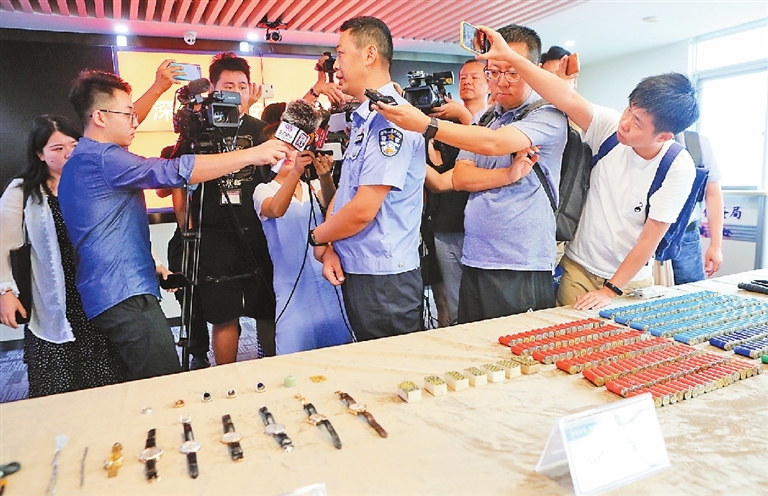 Han Ximin
ximhan@126.com
SHENZHEN police announced yesterday that they had busted a suspected mafia-style criminal ring that had been involved in a dozen crimes, such as organizing and participating in mafia-style organizations, intentional assaults, extortion, prostitution and illegal possession of guns and ammunition.
A total of 62 suspects were criminally detained, 53 were arrested and 67 were administratively punished, according to a news conference of the police's criminal investigation department yesterday.
The ringleader and key members who had fled to Cambodia were also caught with the help of the Cambodian police, the news conference said.
Following a clue last August, the task force suspected that a ring in Henggang, Longgang District, headed by Li Weilong, had developed into a mafia organization.
The ring owned four nightclubs and three bars in Henggang. The ring allegedly amassed illicit profits through extortion, assaults and starting trouble to suppress rivalries and force their competitors out of business. They also organized prostitution.
Li and his members moved part of their business to Cambodia to evade punishment after the city started to clamp down on mafia-style organizations.
In May, after a two-month investigation, police conducted a coordinated action and stormed the four nightclubs in Shenzhen, arresting 17 key members and criminally detaining 42 suspects involved in organizing, introducing and harboring prostitutes.
Police also seized 2.38 million yuan (US$350,000) and US$15,000 in cash and froze bank accounts containing 21.34 million yuan. Eight luxurious cars, including a Lamborghini and Bentley, 357 handgun rounds and 344 shotgun shells were seized.
In the action in Cambodia, police arrested the ringleader and a key member. The two were taken back to Shenzhen on Aug. 1.
"The criminal ring started small by collecting protection fees and starting trouble in 2002. Most of the members were town fellows from Henan Province, schoolmates or even relatives," said an officer Guo, who was responsible for handling the case.
The ring allegedly gradually developed into a structured organization with clear divisions and involvement in organized crime.
Also at the news conference, police released a wanted notice for seven fugitives who were key members of the ring. Whistleblowers who offer valuable clues that lead to the arrest of the seven fugitives can get cash rewards of 20,000 yuan.
Whistleblowers can report crimes by visiting the police website, http://ga.sz.gov.cn, emailing szgayjjb@ga.sz.gov.cn or calling 0755-22222110.