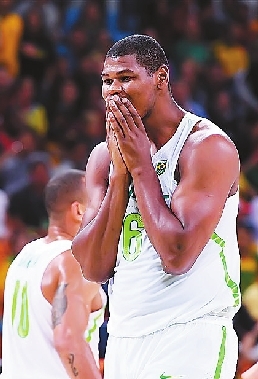 AFTER taking 13 players for a three-nation tournament in France, Brazil head coach Aleksandar Petrovic announced his final 12-man selection for the FIBA Basketball World Cup 2019 on Aug. 17.
After beating Argentina (89-82) and Montenegro (80-69) and conceding a defeat to host France (86-72), the Croatian playcaller admitted that he had seen enough to make up his mind for China.
Rafael Hettsheimeir was the last cut from the group as the South Americans head to China with a team that blends a number of veterans — such as four-time World Cup participants Alex Garcia, Anderson Varejao and Leandro Barbosa — and promising stars Bruno Caboclo, Yago Dos Santos and Marcos Louzada, recently drafted by the Atlanta Hawks.
"Following our first two games — against Argentina and France — I made my mind up. For tactical reasons and considering all players on our team, I decided to cut [Rafael] Hettsheimeir," Petrovic explained.
Brazil will begin its China 2019 quest in Group F in Nanjing against New Zealand, Greece and Montenegro.
Chicago Bulls power forward Crisitiano Felicio, who last sported the yellow-and-green jersey at the 2016 Rio Olympics, welcomed his selection to the World Cup.
"I have missed playing for the national team," the 2.09m big man said.
"Over the course of the last three years, I followed the national team games on the TV, which increased my desire of returning to the national team. Thankfully, this year things worked better for me and the team."
Talking about Brazil's chances at the World Cup, Felicio admitted that the margin of error will be incredibly small in China.
"Many teams have chances to win. And that is the reason why we have to go to China looking to minimize our mistakes in order to win games."(FIBA)