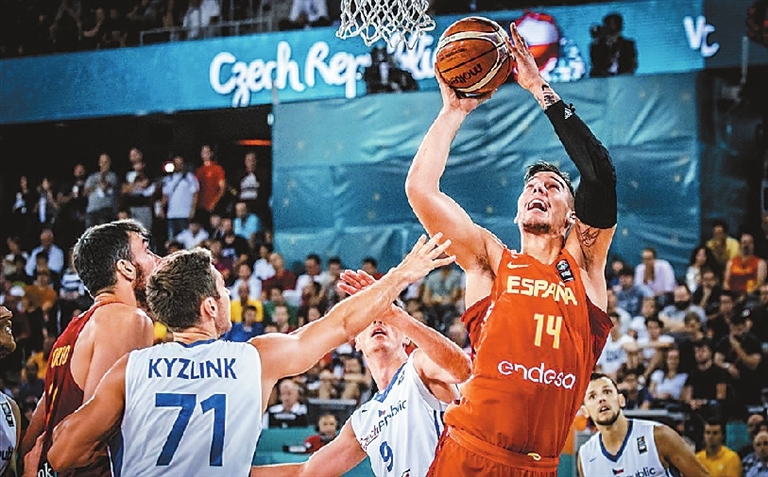 ALL through the NBA season where he plays for the Charlotte Hornets, Willy Hernangomez followed the results of Spain in the FIBA Basketball World Cup 2019 qualifiers and counted down the days to joining the team.
His love for wearing the Spanish jersey is unquestioned and that he may get the chance to do that with his younger brother Juancho — also in the Spain training camp — is a great source of pride.
Willy spoke to FIBA about representing Spain, family, and expectations for the competition in China.
Q: The World Cup is almost upon us. Have you been anxious to get started with team preparations?
A: We have all been waiting for so long to start the training camp and to get things started for this great summer. It feels good to be here with the guys, to sweat and work hard to get in the best shape and chemistry for China 2019.
Q: How close is the team?
A: We really feel like a family; we love to be together and to fight together with the Spanish jersey on our shoulders. There is a great chemistry, a great camaraderie in this group of guys. I really love it. We all fight for one, we play for each other, and we are united. That is one of our biggest strengths, and we won't give up, ever.
Q: One of your teammates actually is family...
A: It's so great to be able to play with my brother. We have been talking about this summer for some weeks now, and finally we are here together with the Spanish jersey on our shoulders doing what we love the most: playing basketball and representing our country.
Q: You have always been clear that representing Spain is very important to you. What does it mean for you?
A: The camaraderie is so great, and when you play and share time with guys who have so much experience and talent, you become a better player.
I am very motivated for this summer and for the tournament to start. I have been working hard since the end of the NBA season with this goal in mind, to join the national team, for a while now.
Q: Spain will face Tunisia in Guangzhou Aug. 31, then Puerto Rico and Iran during the First Round. What do you think about the opponents?
A: It's a very good group, and every team can go to the next round. In a competition like the FIBA World Cup, you have to respect every team and play at your best level because every game is different.
Q: What are the larger aspirations for Spain in China?
A: We want to have another great campaign and continue with the same dynamics as the last international competitions we participated at in the last couple of years. We won gold at the FIBA EuroBasket 2015 in France, we won bronze in Rio (Olympics) the year after and we won another bronze medal in the last EuroBasket.
We are ambitious, and we want to go back home at the end of the tournament with something. We won't give up; we will fight to have the longest run possible and stay in China until Sept. 15!(FIBA)