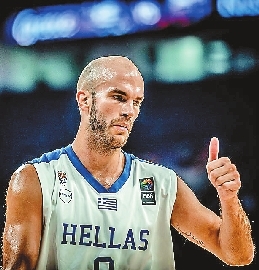 MOST people think that Giannis Antetokounmpo's presence at the FIBA Basketball World Cup 2019 makes Greece a title contender in China. They wouldn't be wrong. But arguably just as important to the team's chances may be Nick Calathes.
It has been three summers since Antetokounmpo and Calathes have played together for Hellas — when they lost to Croatia in the 2016 FIBA Olympic Qualifying Tournament in early July to miss out on the Rio Olympics.
The Milwaukee Bucks leader will be playing in his fifth international event for Greece. And Calathes has recently said Antetokounmpo getting back into FIBA play will be of major importance for Greece.
"He's the leader, he's our guy. We will follow him and see what happens," Calathes told TalkBasket.
Calathes recently finished his first season back in Europe after two campaigns with the Memphis Grizzlies. His standing in Europe has grown even higher and higher as one of the elite playmakers on the continent at the club level.
And while he shared the backcourt with veterans Nikos Zisis and Vassilis Spanoulis at EuroBasket 2015, Calathes took over the main playmaker duties in 2016.
(FIBA)