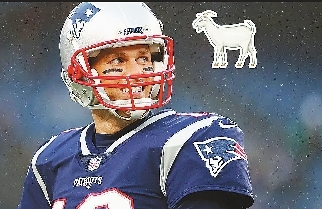 AS time goes on, the English language continues to evolve and change. New words are added to the dictionary every year, many of which reflect the current lingo. But before a word becomes official and makes it into the dictionary, it often starts off as a slang word. A survey by polling company OnePoll analyzed the most popular — and most "annoying" — slang words currently used, according to participants, and among them are terms like "G.O.A.T." and "bae."
It's important to note that slang words play an integral part in language, especially when it comes to verbal language and on social media. Much of this language originates from smaller, often marginalized communities before hitting the mainstream. Some of the examples below, for instance, are derived from drag and queer culture, while others have origins in communities of color. Before it hits the mainstream, it's often used as a way to unite those in marginalized groups.
1. "G.O.A.T." means someone is the best.
This one is simply an acronym meaning "The Greatest of All Time." It is also seen as simply "goat" or the goat emoji.
2. If someone is your "bae" it means they're your loved one.
Bae is a word used to describe a romantic partner. It is believed to have started in the rap and hip-hop communities in the early 2000s, though its exact origins are unclear.
3. Being hangry is something everyone has probably experienced.
"Hangry" is a mashed-up term of the words "hungry" and "angry," used to describe that feeling when you've reached such a point of hunger that you get a bit cranky.
4. "Gucci" means something is good.
"Gucci" is a word similar to "cool" or "chill." It's likely derived from the fashion brand of the same name, thanks to its growing popularity in hip hop and other popular culture. It was most recently used as a sign-off in the movie "Eighth Grade."
5. "To ghost" someone is to stop talking to them suddenly.
One of the most popular recent dating terms, "ghosting" someone means to suddenly stop talking or interacting with someone, usually someone you were romantically involved with. You simply disappear from their life, like a ghost. It's also frequently associated with dating apps.
6. "Fleek" is frequently associated with appearance.
This is a term meaning that something, usually your appearance, is fresh and aesthetically pleasing. Viner Peaches Monroee made the term explode in popularity in 2014 after her video, in which she referred to her eyebrows as "on fleek" went viral. The term was embraced by the masses.
7. "Stussy" is a term that made both the annoying and most confusing list. Definitions vary, but the most popular one seems to be used to describe a mix between street style and preppy style. Its origins are likely with the clothing brand of the same name.
8. "TFW" has a few different meanings.
The abbreviation is a product of meme and Internet culture and is often used with an image of someone making a funny face. It can stand for "that face when," or "that feeling when..."
9. "Throwing shade" is a popular term that is often misused.
Originating in black and Latinx gay communities in ballroom and drag culture, "shade" is an indirect insult.
10. "SMH" rounds out the list with another abbreviation.
Simply meaning "shaking my head," it is often used to signal disappointment.
(SD-Agencies)