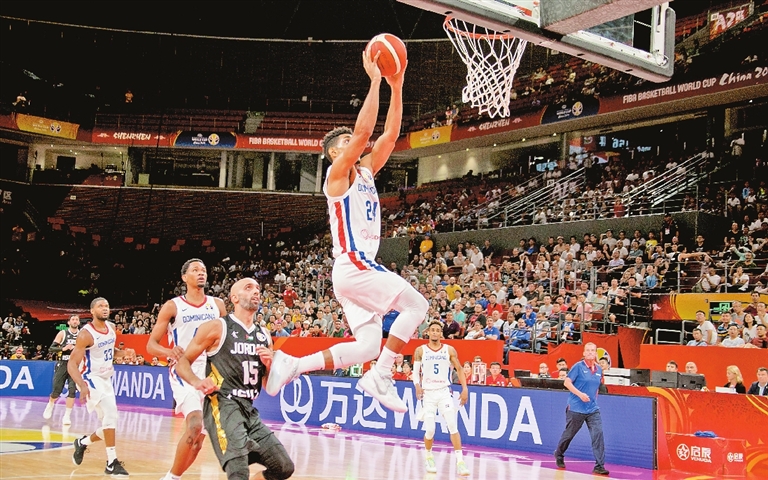 Zhang Yu
JeniZhang13@163.com
THE four basketball teams playing in Group G of the FIBA Basketball World Cup 2019 had their very first games in the first round at the Shenzhen Bay Sports Center in Nanshan District yesterday.
Basketball fans from home and abroad flocked to the sports center to root for their favorite teams on the opening day, with deafening cheers and applause momentarily rising from the crowd.
The Dominican Republic snatched its first Group G win by beating Jordan 80-76 after a seesaw battle, although the determined Jordan side rallied from a 16-point deficit in the final quarter.
Joseph Stiebing, Jordan's head coach, told an after-game press conference that the team had done its best and he hoped they could gain experience from the match. Jordan will face France in their next game tomorrow.
Nestor Garcia, the Dominican Republic's head coach, said the team's morale got a great boost from the victory.
The Dominican Republic will have a face-off with Germany in its next game tomorrow. As for the upcoming opponent, Garcia mentioned that although the German team is strong, they will keep up their momentum and be fully geared up for the next match.
The win over Jordan is likely to give the Dominican Republic an edge to break into the second round. However, with two European powerhouses Germany and France up next in their schedule, the road ahead for the Dominican Republic is not easy.
Group G of the FIBA Basketball World Cup 2019 includes the Dominican Republic, Jordan, France and Germany. Each team will play each other once, for a total of three games per team, with all games played at the Shenzhen Bay Sports Center.
President Xi Jinping attended the opening ceremony of the FIBA Basketball World Cup 2019 at the National Aquatics Center (Water Cube) in Beijing on Friday.
When Xi stepped into the Olympic Hall of the Water Cube with FIBA president Horacio Muratore, FIBA secretary-general Andreas Zagklis and visiting Philippine President Rodrigo Duterte, the audience gave a warm welcome with a standing ovation.
In a speech delivered by Muratore, he said the 2019 edition will be the largest and most-watched basketball World Cup in history, and will feature the greatest ever number of host cities.
Muratore highly commended the preparation China had made for the competition and said he believes that this World Cup will be a tremendous success.
The FIBA Basketball World Cup is the top national-level basketball competition held by FIBA every four years.
This year's competition is taking place in China from Aug. 31 to Sept. 15.
With a record 32 teams participating, the tournament will see 92 games played over 16 days in eight host cities, namely Beijing, Shanghai, Nanjing, Wuhan, Guangzhou, Shenzhen, Foshan and Dongguan. Shenzhen will host 10 games.
(Special reports on P6, 7, 8)