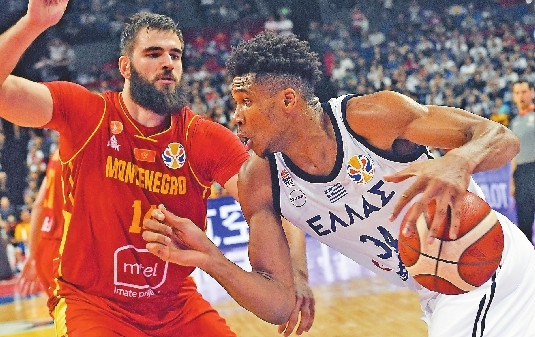 GREECE displayed wire-to-wire dominance as the side trounced Montenegro 85-60 for its first Group F victory at the FIBA Basketball World Cup in Nanjing on Sunday night, with Giannis Antetokounmpo producing plenty of highlights despite playing limited minutes.
Antetokounmpo needed just 16 minutes to collect a near double-double of 10 points and eight rebounds.
Both the Greeks and Montenegrins started slow, combining for only 7 points in the first five minutes , but it was Hellas that seized the momentum to take a 17-9 lead after the first period. Greece would never look back as they limited Montenegro to just seven points in the second quarter to blow their lead up to 26 points at the half and seal the deal.
Thanks to a couple of steals and great rebounding, the Greeks rattled off 10 straight points, mostly in transition, to erect their first double-digit lead, 15-4, after a Georgios Printezis fastbreak dunk. Montenegro would never recover after that.
World Cup newcomer Georgios Papagiannis shone brightest for Hellas. The 21-year-old made his presence felt throughout the last 30 minutes of the game and treated the paint as his personal playground. (FIBA)