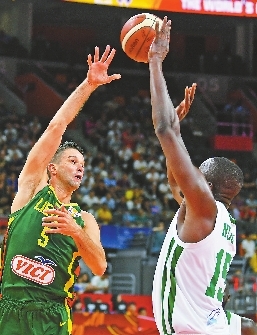 LITHUANIA started the FIBA Basketball World Cup with a bang, leading from start to finish in a comfortable 101-47 win over Senegal.
However, coach Dainius Adomaitis knows that a tougher job awaits with Canada and Australia.
It was a colorful affair in Dongguan on Sunday night, with fans of both teams filling up the stands, and a large number of Lithuanians barely had a chance to catch their breath after singing the anthem, when it was already a 10-point game.
Lithuania became the sixth team in triple digits in China, after Serbia, Italy, Spain, Australia and Brazil. The entire FIBA Basketball World Cup 2014 had six 100-plus point games.
It was a one way street from the start of the game, as Marius Grigonis hit on the first play. Domantas Sabonis, Mantas Kalnietis and Jonas Valanciunas all joined the fun to make it a 13-2 game after three minutes, and Senegal never got closer than -9 after that.
Mantas Kalnietis had 13 points and 8 assists, winning the Player of the Game award. Kalnietis was one of seven players in double digits for Lithuania, along with Jonas Valanciunas (13 points, 11 rebounds), Domantas Sabonis (13 points), Marius Grigonis (12 points), Mindaugas Kuzminskas (11 points), Paulius Jankunas (10 points) and Lukas Lekavicius (10 points).
Senegal was never going to be a shooting team, but shooting 1-of-23 from beyond the arc is way below anybody's expectations. There was a huge discrepancy in free throw shooting - at the end of the third quarter Lithuania had shot 28-of-31 from the charity stripe, a massive advantage over Senegal's 6-of-8 at that point.(FIBA)