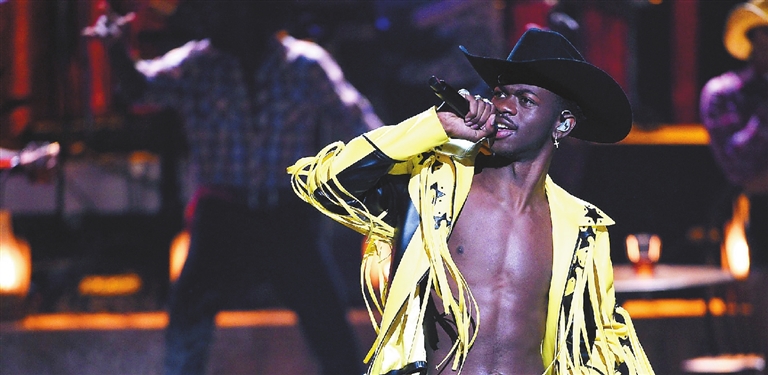 Lil Nas X is one of the most popular musical artists in the world right now with the most bona fide song of the summer, "Old Town Road." The 20-year-old artist rose to fame this year after his hit song first went viral on short-form video app TikTok, and has since set a record for the longest-running song at the No. 1 spot on Billboard Hot 100. Here is everything you need to know about the star singer.
Lil Nas X, 20, was born Montero Hill. He grew up outside of Atlanta in a poor household and, feeling alone, turned to the Internet where he found memes and an avid following for a popular Nicki Minaj fan account he ran.
At 19, he decided to drop out of college in the summer of 2018 after just a year at a Georgia university. He crashed at his sister's house while he pursued a music career and posted some songs on SoundCloud that got little traction.
Then, right around Halloween that year, Lil Nas X discovered a beat on YouTube from a 19-year-old Dutch producer named Young Kio. Lil Nas X bought the track for a mere US$30 off of a music licensing website called BeatStars.
Kio's beat inspired Lil Nas X to create "Old Town Road," a song that's part-trap, part-country. He told Rolling Stone the song was "basically what I was going through, but in another lens," and that he chose the title "Old Town Road" simply because how country it sounded.
"Old Town Road" was officially released in December. It didn't take long for "Old Town Road" to go viral, as Lil Nas X wanted. By the start of March, cowboy-related videos were popping up across the popular short-form video app TikTok. Millions have taken part in the "Yee Haw Challenge," where they transform in a matter of seconds from everyday teens into a lasso-holding, plaid-wearing, Stetson-sporting cowboys and cowgirls.
The virality of "Old Town Road" boosted the song to the Billboard Hot 100, where it debuted in mid-March at No. 83. Popular music label Columbia Records signed Lil Nas X just a week later.
However, "Old Town Road" was embroiled in controversy before the end of March. Besides the Billboard Hot 100 list, the cross-genre song made it to both the Hot Country and Hot R&B/Hip-Hop lists. But Billboard quietly removed the song from its hot country rankings, and claimed that "Old Town Road" should have never made it there in the first place because "it does not embrace enough elements of today's country music to chart in its current version."
However, things took a turn when country singer Billy Ray Cyrus recorded a new verse for "Old Town Road." The potential for a collaboration dates back to December, when Lil Nas X tweeted, "Twitter please help me get billy ray cyrus on this." The duo released the remix for the song in April, bringing a more traditional country voice to a song Billboard initially shunned as not being country enough.
Shortly after the Billy Ray Cyrus version of "Old Town Road" dropped, the song rocketed to the No. 1 spot on the Billboard Hot 100.
The forthcoming music video from Lil Nas X and Cyrus, released in May, was star-studded. The video now has more than 282 million views on YouTube.
As the "Old Town Road" remix remained at the top of the charts, Lil Nas X doled out more remixes of the song featuring Diplo, rapper RM of K-pop group BTS, and Young Thug and Mason Ramsey, of "Walmart yodeling kid" fame.
In the height of "Old Town Road" hype, Lil Nas X released an EP in June simply called "7." During Pride Month, Lil Nas X came out as gay.
By the end of July, "Old Town Road," which had a 17-week run, became the longest-running No. 1 song in U.S. chart history. Lil Nas X landed on the cover of Time magazine in mid-August. "Everything lined up for this moment to take me to this place," he told Time. (SD-Agencies)