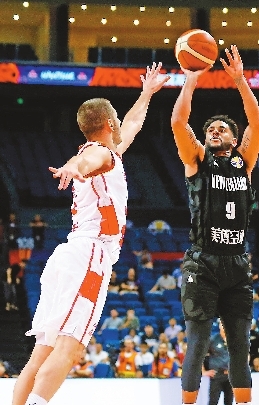 NEW ZEALAND rode the hot hand of Corey Webster en route to a thrilling 93-83 win over Montenegro in Group F action in Nanjing yesterday.
Powered by the elder Webster's torrid shooting spree, New Zealand led early in the game and took a nine-point lead to the halftime break. Coach Paul Henare certainly needed Webster's outside touch as the Tall Blacks were desperate for a win at the FIBA Basketball World Cup after bowing to Brazil in their first game.
Montenegro mounted a furious rally in the third period to trim the gap to just one point heading into the final frame, but Webster & Co. rediscovered their shooting form to stave off the Montenegrins for good.
Behind terrific playmaking from Nikola Ivanovic and scoring from Nikola Vucevic and Petar Popovic, Montenegro cut New Zealand's lead to a solitary point to end the third period and even took the lead early in the fourth. The Tall Blacks, however, woke up soon thereafter, with Tohi Smith-Milner and Webster combining to hit three triples in a row to swing the momentum back to New Zealand for good.(FIBA)