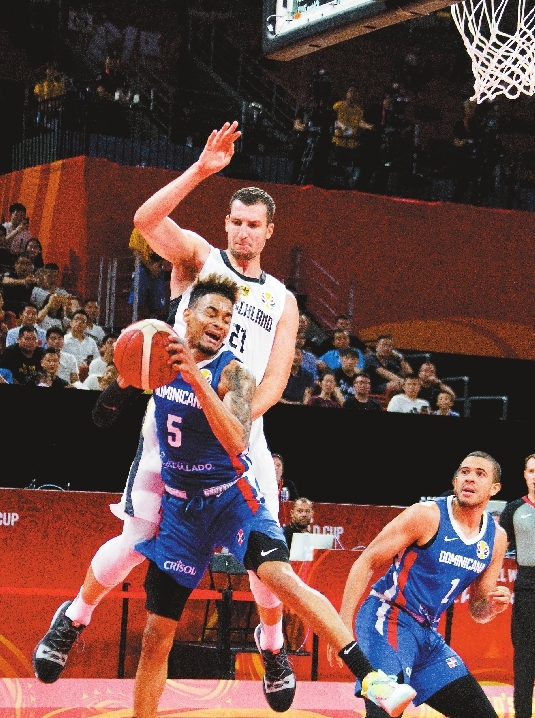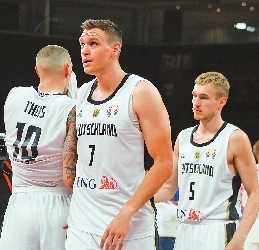 IN a highly physical grind-it-out game, the Dominican Republic survived a heart-stopping 70-68 victory to turn back Germany in Shenzhen yesterday and improve its record to 2-0 in the FIBA Basketball World Cup.
Germany's Daniel Barthel had a chance to win the game at the buzzer with a three-point attempt but shot an airball as time expired, with the Dominicans storming the court in celebration as they now have one foot in the second round.
Victor Liz led the Dominican Republic with 17 points while Eloy Vargas and Ronald Roberts added 16 and 10 points, respectively, while Dennis Schroder had a game-high 20 points in a losing effort for Germany.
With the game still in the balance at 62-all at the 4:51 mark, Dominican Republic unleashed a quick 7-1 run to take a 69-63 lead heading down the stretch. Although Germany countered with a rally, the run was enough cushion for the Dominicans to hold on to the victory.
Player of the Game Liz produced a stellar all-around effort with 17 points, five rebounds and four assists to lead the Dominican Republic to their second win in as many games.
The Dominicans took a massive 22-10 assists advantage over Germany. In a tightly contested game, fatigue will become a factor, and with Dominican Republic's unselfish play it showed that they had the fresher legs in the clutch.
The Dominican Republic gave themselves a huge chance to advance to the second round by winning their first two games, while the German players have lost control of their fate and will have to rely on other games to determine their chance.
"Thank god for this victory. Our coach gave us a lot of confidence. We played good, we played aggressively on defense. We played 40 minutes against Germany. They play physically. They move the ball, have good shooters. But we had the patience to get this victory," said Liz.
Dominican Republic head coach Nestor Garcia was proud of his players: "I am really happy about my players. They fought today. And now we are in the top 16 teams in the World Cup. We played very good defense. Maybe for a lot of people we were a tournament surprise, but we believe in ourselves. Now we enjoy this moment. But this is only one game. This team can do more things in this World Cup."
Germany head coach Henrik Rodl thought his men didn't have their nerves 100 percent under control: "They played a very gutsy game. It could have gone either way. It was a huge battle. We were shooting the ball really bad."(FIBA)