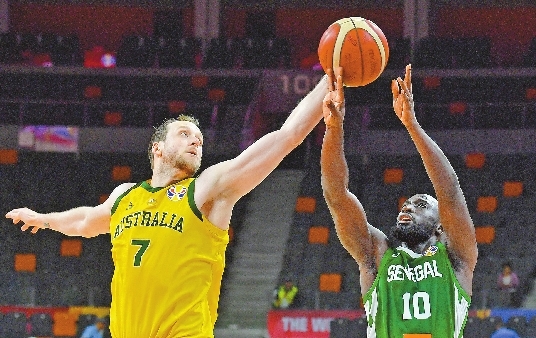 AUSTRALIA defeated Senegal 81-68 to climb to 2-0 in Group H, as Joe Ingles flirted with a first ever triple-double in FIBA Basketball World Cup history, but fell just short.
Senegal proved to be a different team compared to the one that got destroyed by Lithuania two days ago, and they made Australia work hard up until the last minute of the game. But it was just too much of Joe Ingles for Senegal, which drop to 0-2.
Senegal made it all the way back to 64-59 midway through the fourth quarter, but Ingles had an answer. His high arching three-pointer beat the shot clock buzzer to make it a 10-point game two possessions later, and any hope of a comeback was killed by another similar shot from Ingles to make it 77-66 with a minute left to play.
Meanwhile, the Czech Republic claimed its first ever victory at the World Cup after overcoming Japan 89-76 in a Group E match in Shanghai yesterday.(FIBA)