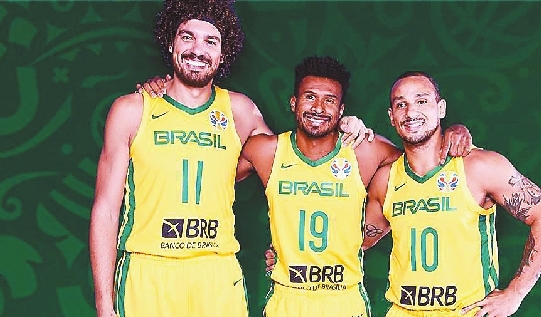 NOT many players have the pleasure of featuring at five straight FIBA Basketball World Cup events, but Brazil seems to be the country of record setters.
Marcelinho Machado's fifth World Cup matched the appearance record in 2014 and he was joined by three of his countrymen five years later. Leandro Barbosa, Alex Garcia and Anderson Varejao hit the mark this year in China, where Brazil — a country that hasn't missed a FIBA Basketball World Cup since 1950 — faces New Zealand, Montenegro and Greece in Group F.
Just like Luis Scola of Argentina and Eduardo Mingas from Angola — who hit the fifth mark this year — the three Brazilians first embarked on their World Cup journey back in 2002 in Indianapolis, and 17 years on, Barbosa (36), Garcia (39) and Varejao (who turns 37 later this month) are still around running the floor as pleasantly as in their early days with the yellow-and-green jersey on.
"I don't look at their passports. For me, they are all fantastic players and they are here to help our team succeed. We have a mix of younger and more experienced players," Brazil head coach Alexandar Petrovic said.
Looking thorough their recent performances in Brazil's topflight league Novo Basquete Brazil, age really seems just like numbers for the three of them. Barbosa last played for Minas Clube, Varejao helped Flamengo win the 2019 league title, and Garcia suited for Bauru Basquete.
Their national team careers combined with hours of work in the gym played a significant part in their careers. Both Barbosa and Varejao went on to win NBA titles with the Cleveland Cavaliers and the Golden State Warriors while donning Brazil jerseys at the international level.
"This is a very competitive tournament, and hopefully we can do a good job in my fifth World Cup as this is going to be my last one," Barbosa said.
Brazil brought to China a number of youngsters. If any of the newcomers target national longevity, there may be no better person to ask than Barbosa.
"Looking up to veterans, getting some experience from them, playing the game, enjoying it, having fun and taking care of yourself because you can be in the situation we are right now," he listed his own keys to durability.(FIBA)