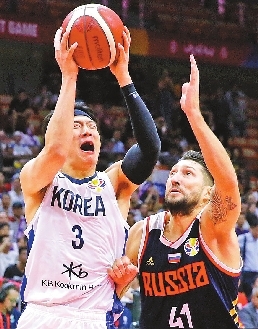 RUSSIA booked its slot to the second round of the FIBA Basketball World Cup after seeing off an early charge from South Korea 87-73 in Wuhan on Monday night.
Four Russian players recorded double figures led by Andrey Vorontsevich and Vitaly Fridzon, who netted 13 points apiece in a tightly contested matchup to inspire the Russians to victory in well deserved fashion
Mikhail Kulagin and Andrey Zubkov added 11 points to a statistics board that spoke highly of a side ready to share roles for the glory of Russia in a collective team effort.
Third quarter dominance is a sign of superior teams and Russia came out all guns blazing scoring 23 points while limiting South Korea to just 12. More importantly, Russia found ways to stop Korea center Ra Gu-na, who had scored 13 points in the first half, and they limited him to just six in the second half.
Using their size to full effect on both ends of the court, the Russian players reminded everyone why they are within range of being called title favorites. They wore a fierce look that showcased a determined team ready to fight tooth and nail for victory.
To be outstanding in big and small ways is to come up as a true leader and that is what Nikita Kurbanov did for Russia on his way to being named as the Player of the Game.
Booking a near triple double with nine assists, eight points and seven rebounds, the CSKA Moscow small forward was on fire as he helped his outfit record a second straight victory at the World Cup.
"We knew it would be tough after an emotional win two days ago, we kind of feel that we are better on paper. We wanted to understand that South Korea can play a different style of play. They fought until the end. It looked like a big lead but I was a bit nervous because I knew that they could come back into the game. Our players were distributing something. We have to continue to play like this," said Russia coach Sergey Bazarevich.(FIBA)