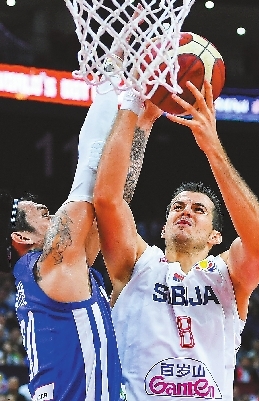 SERBIA continued its dominance in pool play of the FIBA Basketball World Cup after trouncing the Philippines 126-67 in Foshan on Monday night.
Serbia advanced to the second round after the win.
Nemanja Bjelica led seven Serbian players who scored 10 points or more, while the Philippines' most important player Andray Blatche had a night to forget, finishing with five points and five rebounds before fouling out. The Serbs will play their second round in Group J in Wuhan against the two teams that finish in the first two places of Group D, which consists of Spain, Puerto Rico, Tunisia and Iran.
Serbia had a slow start to the game and the Philippines tried to grow in confidence. Tied at 7-all with six minutes left in the opening quarter, coach Sacha Djordjevic called Nikola Jokic off the bench and the Serbian offense started to roll. The Serbs used a 7-0 run to close the first 10 minutes with a 25-13 lead, and the runners-up of the FIBA Basketball World Cup 2014 never slowed down.
Player of the Game Nemanja Bjelica, who sat out Serbia's opening game against Angola, came off the bench making all seven of his field goal attempts, including three three-pointers to finish with a game-high 20 points in just 16 minutes of action.
Serbia not only out-rebounded the Philippines 37-23, but they also moved the ball exceptionally well finishing with 37 assists against the Philippines' 14.
There had never been a question about who were the favorites to win this game. But despite their high-favoritism, the Serbs took the Philippines seriously and lived up to expectations.
They played with their usual rhythm, putting the Philippines in a difficult position.(FIBA)