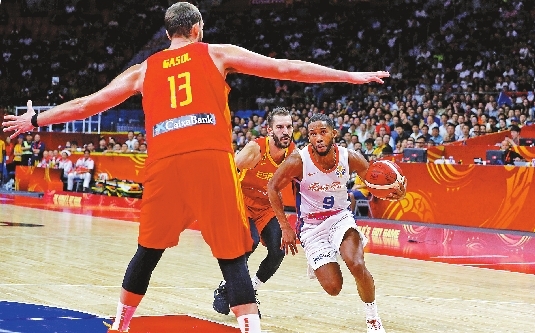 A 12-0 spurt in the third quarter gifted Spain a 73-63 victory over Puerto Rico in Group C of the FIBA Basketball World Cup in Guangzhou on Monday night.
The basketball-mad Puerto Rico led La Roja by four after the first 10 minutes and only trailed by one at intermission. Spain ruled the third quarter 21-10 to push the lead to double digits but another Puerto Rican push cut the lead to six with 1:50 to go. No upset on this night as Ricky Rubio and Marc Gasol scored the last four points to close it out.
In the third quarter, the Spanish players stepped up their defensive pressure and leveraged a 12 point margin that would see them through to the win.
Player of the Game Marc Gasol, Spain's center of attention, led all scorers with 19 points, and pulled down seven rebounds to go with two assists, two steals and two blocks. Spain shot a dreadful 13 percent from beyond the arc, which helped Puerto Rico stay in the game.
"It was a good challenge. We reacted defensively and raised our level of physicality even though we struggled to make shots. I'm sure the next game we will make more shots. You have to stay patient, execute, not overreact to missing shots and continue to rebound, play defense and share the ball," said Spain center Gasol.(FIBA)