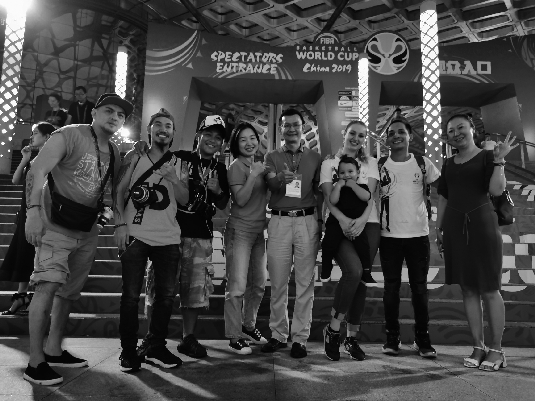 Xiao Penshan, Han Ximin
ximhan@126.com
MORE than 40 expats from 18 countries, many of them being big fans of either Germany or the Dominican Republic, and some even basketball coaches, cheered at a breathtaking basketball match of the 2019 FIBA Basketball World Cup in Shenzhen Bay Sports Center on Tuesday.
The entire audience had their nerves on edge when the game began, because the sides were well-matched. Every shot won applause from the audience. Fans hugged their friends and raised their arms victoriously when their teams scored.
Shenzhen Bay Sports Center in Nanshan is one of the main venues for the 2019 FIBA Basketball World Cup tournament, attracting numerous basketball fans from around the world.
Supported by the Nanshan District Foreign Affairs Office and Nanshan District Culture, Sports, Media and Tourism Administration, Shekou Management and Service Center for Expats (Shekou MSCE) arranged for some expat basketball fans in Shekou to watch the match between the Dominican Republic and Germany as a Discover Nanshan Activity Series event.
When the match was nearing its end, everyone held their breath as Germany's Daniel Barthel attempted a three-point shot with the Dominican Republic two points ahead of Germany. However, he missed the three-pointer at the buzzer and the Dominican Republic earned the 70-68 victory. A member of the expat audience, Ramón Orlando, who is a big fan of the Dominican team, jumped up and couldn't stop dancing as he celebrated the victory.
The organizer received many thanks from the participants after the event.