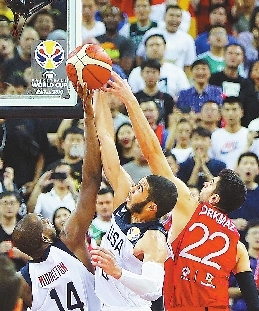 DEFENDING champion Team USA survived a major scare against Turkey and won 93-92 in an overtime thriller to advance to the second round of the FIBA Basketball World Cup in Shanghai on Tuesday night.
Turkey led 92-91 with nine seconds left but then missed four three throws to let USA back in the contest. Jayson Tatum grabbed the rebound off a free throw miss from Cedi Osman and streaked down the court before dropping it off to Khris Middleton who drew a foul. The 2.05m forward calmly drilled two free throws to give USA the lead with 2.1 ticks left.
Ersan Ilyasova missed a three at the buzzer and the USA won their 21st consecutive game at the World Cup by the narrowest of margins. Middleton top-scored for USA with 15 points and Kemba Walker hit some big shots in overtime to finish with 14.
Trailing by 15 points in the second quarter, Turkey was in a major hole but fought back through inspired play from Ilyasova (23 points and 14 rebounds). A tip-in from Ilyasova with 12 seconds left in regulation gave Turkey a two-point lead but Tatum was fouled from behind the arc with 0.1 seconds on the clock left.
The Boston Celtics forward made two of the three shots to force overtime and USA hung on from there.
Turkey will lament missing free throws down the stretch. Dogus Balbay and Osman lost their nerve at the stripe.
Player of the Game Middleton stepped up to the line and sank the two free throws to give USA the lead and ultimately the win. The Milwaukee Bucks small forward also made some big-time shots and finished with a team-high 15 points.
The USA survived a horrendous 35 percent from the field but did make 14 threes compared to Turkey's 10, which made a difference in the end.
USA will play Japan in their final Group E game, while the winner of Turkey and the Czech Republic will advance.(FIBA)