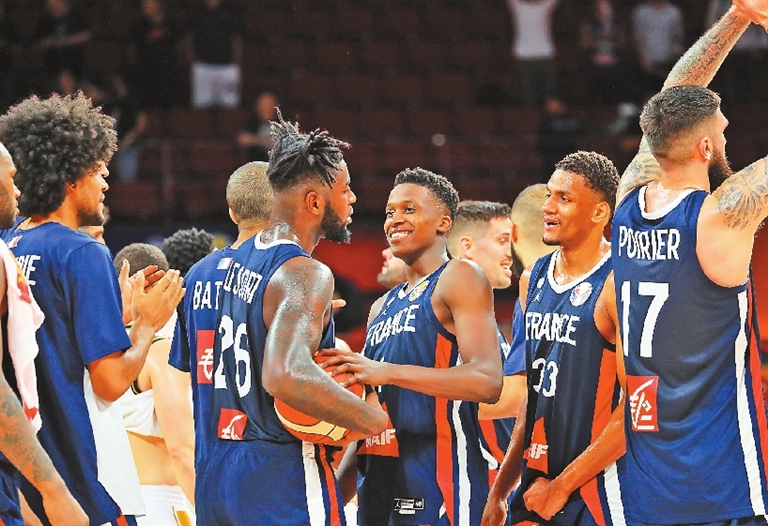 FRANCE stamped its class with a massive 103-64 victory over Jordan and advanced to the second round of the FIBA Basketball World Cup in Shenzhen on Tuesday night.
France displayed phenomenal outside prowess shooting 12-of-19 from three-point area combined with their flawless passing en route to a huge 26-11 advantage in the assist department.
Nando De Colo paced France's balanced attack with five players scoring in double figures with 19 points, with Rudy Gobert, Evan Fournier, Frank Ntilikina and Amath M'Baye chipping in 16, 13, 12 and 11 points, respectively.
Jordan battled mightily down only 36-33 in the second period, until France unleashed a searing 18-0 run spanning the second quarter and the start of the third canto to break the game wide open. Les Bleus wasn't really threatened the rest of the way.
Player of the Game Rudy Gobert's defensive presence was a game-changer as usual. Jordan's Ahmad Al Dwairi scored 34 points in their previous game but faced with "The Stifle Tower" he was limited to 6 points in this game. Gobert recorded a double-double tallying 16 points and 13 rebounds.
Head coach Vince Collet must be brimming inside watching his wards play smart and efficient basketball, proved by their 59 percent shooting, while Jordan committed 22 turnovers, dooming the Asian squad.
France got the job done; winning a tough game over Germany and an expected rout over Jordan.
Les Blues will face the Dominican Republic for the top spot of Group G, which is going to be a crucial game because their first round records will be taken along in the second round.
"We were serious. It was a little bit difficult in the beginning because Jordan can play well. They made some big shots. But we had consistency and finally, at the end of the second quarter, we made the run. And after that, we kept going. I could let everybody get some minutes. So it was good to stay in the rhythm," said France head coach Vincent Collet.
"I thought it was a good game for us. We stayed focused throughout the game. We had a little letdown in the second quarter, but we re-focused pretty quick. We did a good job communicating and used that to get the win and also to get better as a team," said France center Gobert.
Jordan head coach Joseph Stiebing gave France a lot of credit: "They are really a good team, they have all the pieces you need to win at this level. They got good size, good playmakers, players that can shoot the ball and they shot tremendously from the field and three-point line.
"We were able to stay in the game early because we made some three-point shots but as the game went along we didn't make those shots. They were able to rebound the ball and make transition baskets. I was proud of our effort. I thought we played really hard, but we were just overmatched tonight."
(FIBA)