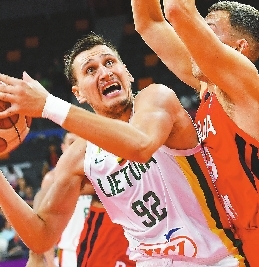 ELEVEN players scored for Lithuania as the side smashed Canada 92-69 at the FIBA World Cup in Dongguan on Tuesday night.
Lithuania's win assures the team a spot in the last 16 alongside fellow Group H side Australia, which also has two victories with one group game remaining. The two sides will meet today to decide the winner of Group H.
A 7-0 run helped Lithuania lead the game in the middle of the first quarter, and they increased that to 16 points in the second, but Canada narrowed the gap to 46-36 at half-time.
Lithuania led by 16 again after the third quarter to put Canada on the edge of elimination. And although Canada fought back to narrow the gap to 12 points, an 8-0 run put Lithuania 20 points clear to seal an easy victory.
"We tried to narrow the gap in the fourth quarter, but there are some problems in our defense," head coach of Canada Nick Nurse said.
"We didn't achieve our goal, but there is a lot of basketball to play. We learn much from Lithuania and Australia."
Six Lithuania players hit double digits, as Jonas Valanciunas and Edgaras Ulanovas both pocketed a team-high 13 points. Kyle Wiltjer had a game-high 24 points for Canada, and Cory Joseph, who played for NBA's Indiana Pacers, added 15 points.
"It's an incredible game, and we did well in defense. It's a talented team, we can lead from the beginning, but it's not easy like the score 92-69 to play against Canada," said Dainius Adomaitis, head coach of Lithuania.
An established team in world basketball, Lithuania has made the quarterfinals in all seven editions of the Olympic Games and in all four FIBA World Cups played since 1992.
(Xinhua)