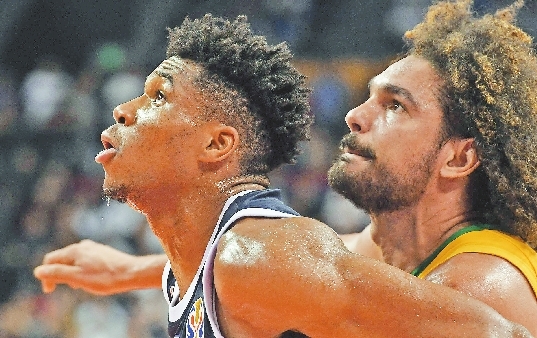 BRAZIL defeated NBA MVP Giannis Antetokounmpo and Greece 79-78 at the FIBA World Cup in Nanjing on Tuesday night in a thrilling group stage game.
Brazil rallied in the second half and scraped by Greece to rise to the top of Group F and book a spot in the second round.
Greece had a strong start in this game as they led by as many as 17 points in the first half, thanks mainly to great play from the backcourt of Kostas Sloukas and Nick Calathes.
Their biggest star, Giannis Antetokounmpo, was hampered by foul trouble throughout the game, making only one field goal in the entire first half and finishing with a total of 13 points when he fouled out late in the fourth quarter.
"The Greek Freak" found the going tough against the defense of pesky Brazilian guard Alex Garcia and the long-limbed Bruno Caboclo.
Brazil leaned on its veterans to make their offense hum in this game, with Garcia's aggressive drives and Marquinhos Sousa's accurate shooting helping them turn the table in the second half.(FIBA)